Tell Congress: Stop Police State Tyranny In America
Messages Sent So Far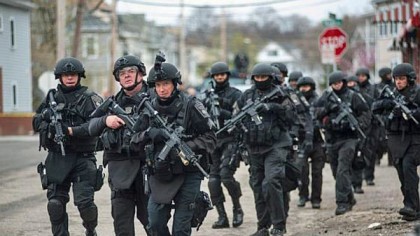 Concerned Americans, we must pay attention! The writing is on the wall. We must wake up:

SILENCING THE PEOPLE. A Department of Homeland Security report entitled, "Rightwing Extremism: Current Economic and Political Climate Fueling Resurgence in Radicalization and Recruitment" warns of "radical" groups like Christian cults, pro-life groups and returning military veterans. Further, West Point's Combatting Terrorism Center claims that conservatives and libertarians are a threat to society in their report called "Challengers from the Sidelines: Understanding America's Violent Far-Right." At what point will law-abiding, pro-liberty Americans be labeled "terrorists?"
DISARMING THE PEOPLE. On January 16, 2013 Barack Obama issued 23 executive orders, including 3 presidential memoranda, calling for increased gun-control. Diane Feinstein, Frank Lautenberg, and other Congresspersons have also introduced legislation to ban weapons and magazines, establish sweeping background checks, and create a centralized gun-registration system.

AMERICAN CONCENTRATION CAMPS. The National Emergency Centers Establishment Act, initiates the framework for mass-quarantine of American citizens. Congressman Alcee Hastings (D-Fl) reintroduced this bill in the 113th Congress on January 23; the bill is H.R. 390. This legislation calls for the creation of six national facilities for the concentration of civilian internees. Who are they planning to detain?

STABILITY POLICE FORCE. The George Soros-funded Rand Corporation issued a report calling for a Stability Police Force (SPF), saying "Stability operations have become an inescapable reality of U.S. foreign policy. Establishing security with soldiers and police is critical because it is difficult to achieve other objectives - such as rebuilding political and economic systems - without it."

STATE-LEVEL MILITARY ACTIVITIES. Obama signed an executive order establishing a Council of Governors, which is to be a panel of 10 state governors selected by the President who will review "review matters involving the National Guard; homeland defense; civil support; and synchronization and integration of state and federal military activities in the United States," according to the White House. Has Obama now federalized the states and gained control of the National Guard?

GOVERNMENT AMASSING WEAPONS. The Department of Homeland Security (DHS) has in its possession over 1.6 billion rounds of ammunition -- including hollow-points. The Department also has thousands of tanks for "domestic use," capable of withstanding "ballistic arms fire, mine blasts, IEDs, and other emerging threats." Why does the DHS need over a billion bullets, rifles, and tanks? We have the armed forces for our defense.

INTERNATIONAL LAW ENFORCEMENT. Obama signed executive order 12425, giving the international police force INTERPOL immunity from American law. INTERPOL now has free reign in the United States, unencumbered by the Fourth Amendment, the Freedom of Information Act, American law enforcement agencies, and the U.S. Constitution. Obama has now given our sovereignty away to an international police force.
DRONES IN OUR SKIES. In the summer of 2012, after legislation was passed and signed by President Obama, unmanned aerial vehicles were first dispatched into American skies. While these UAV's -- or drones -- are not armed, they are equipped with surveillance cameras. The records they collect are kept for 90 days.

The government's encroachment of our rights will continue as long as we fail to act! Where will this dangerous pathway end?

Take action to preserve liberty, the Republic, and individual sovereignty. Send your personalized messages to your Representative and U.S. Senators right now and ask them to DEFUND and DISMANTLE the American Police State!
Public Comments
Apr 4th, 2012
Someone from Memphis, TN signed.
Apr 4th, 2012
Mary Ann R. from Marble Falls, TX writes:
Citizens and the officials in Washington must stand up for this country. Everyone that knows the truth about the president must disclose it. There must be away around the Obama owned media. Too scary to think about a civil national guard. Will it take a civil war? One was already fought for this nation.
Apr 4th, 2012
Shirley M. from Mohnton, PA writes:
PLEASE MAKE SURE YOU DEFUND ANY EXISTING PROGRAMS THAT THREATEN THE FREEDOM OF AMERICAN CITIZENS OR BYPASS OUR CONSTITUTION!!! FURTHER MAKE SURE YOU OPPOSE ANY FUTURE LEGISLATION THAT ACCOMPLISHES THE SAME!!!! THIS IS VERY IMPORTANT AND MUST BE HANDLED BY EVERYONE ASAP!!!!
Apr 4th, 2012
Steve G. from Thousand Oaks, CA writes:
This sounds like NAZI Germany or USSR!!! Outrageous!!
Apr 4th, 2012
Someone from Fair Oaks, CA writes:
We can no longer allow our country to be dismantled! We must vote him out. WAKE UP AMERICA!!
Apr 4th, 2012
Someone from Dinuba, CA writes:
Don't let this president gain the power to bring tyranny to this United States. We must not let him win the next election!
Apr 4th, 2012
John K. from Albany, CA writes:
Apr 4th, 2012
Brenda W. from West Palm Beach, FL writes:
Wake up America or our children & grandchildren will be living in a communist state!!!
Apr 4th, 2012
Susan & John K. from Corydon, IN writes:
Get him out of the White House.
Apr 4th, 2012
Jerry P. from Chiloquin, OR signed.
Apr 4th, 2012
Ken M. from Bakersfield, CA signed.
Apr 4th, 2012
Newton B. from Atlanta, GA signed.
Apr 4th, 2012
Jerry P. from Chiloquin, OR writes:
Our libertys are slowly being taken away! Wake up everyone!
Apr 4th, 2012
david s. from Vancouver, WA writes:
You representatives better start clamping down on what this president is pushing. He is a tyrant and an enemy of this country. Get some smarts for a change.
Apr 4th, 2012
Wilma E. from Las Vegas, NV signed.
Apr 4th, 2012
John M. from Lebanon, OH signed.
Apr 4th, 2012
Rosa N. from Alvin, TX signed.
Apr 4th, 2012
Someone from Little Elm, TX signed.
Apr 4th, 2012
Linda H. from Vancouver, WA writes:
Please help our nation to remain free!! Our freedoms are being stolen one by one. The tyranny is unequaled in this nation. I implore you to do all you can to stop this!!
Apr 4th, 2012
Eric V. from Layton, UT writes:
Give ME and OUR hard working American's OUR Country back! You crooks in Washington deserve a serious pay cut! Stop giving yourself's pay raises for ripping of the people that put you in the office you are holding! I am so sick and tired of how ALL OF YOU in Washington have RUINED this Country! Stop sending our resourses overseas! Lets makes OUR own Oil and KEEP IT HERE! It does NOT take a freakin Rocket Scientist to figure out that if We get THE COST OF OIL DOWN, THE COST TO MOVE PRODUCES AND PEOPLE the ecconomy wil stablize! DO THE JOB WE ELECTED YOU TO DO! STOP RIPPING OFF THE U.S. TAX PAYERS!!!
Apr 4th, 2012
HOWARD J. H. from Randle, WA signed.
Apr 4th, 2012
Someone from Paducah, KY signed.
Apr 4th, 2012
GERALD S. from Cooperstown, NY writes:
Obama is a traitor to this country.
Apr 4th, 2012
Someone from Paducah, KY signed.
Apr 4th, 2012
Jeff H. from Kenosha, WI signed.
Apr 4th, 2012
Roxanne B. from Amarillo, TX writes:
Obama the Marxist dictator must be stopped.
Apr 4th, 2012
Anne R. from Lawrenceburg, KY signed.
Apr 4th, 2012
Someone from Unadilla, NY signed.
Apr 4th, 2012
James L. from San Bernardino, CA signed.
Apr 4th, 2012
Scott S. from Palm Desert, CA signed.
Apr 4th, 2012
Patricia C. from Bluffton, SC writes:
Stop Obama before it's too late.
Apr 4th, 2012
Someone from Racine, WI writes:
Apr 4th, 2012
Elizabeth U. from Ocean Shores, WA signed.
Apr 4th, 2012
Jayne S. from Bendersville, PA writes:
This is how Hitler did it. Please protect our freedom. Thank You
Apr 4th, 2012
Steve & Marilyn L. from Fort Wayne, IN signed.
Apr 4th, 2012
Kenneth H. from Sun City, AZ signed.
Apr 4th, 2012
Tula F. from Warren, MI writes:
You were elected by us to work for our benefit, remember "We the People". I am not happy with your voting policies and I will definitely remember that when I vote.
Apr 4th, 2012
Someone from Baldwin, NY signed.
Apr 4th, 2012
Tom W. from Longview, WA writes:
We are in the final stages of the 100 year systematic destruction of our free Republic. All is needed for competion is a little more apathy from our citizens.
Apr 4th, 2012
S. L. M. from Torrance, CA signed.