Tell Congress: Stop Police State Tyranny In America
Messages Sent So Far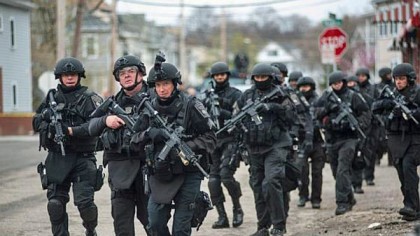 Concerned Americans, we must pay attention! The writing is on the wall. We must wake up:

SILENCING THE PEOPLE. A Department of Homeland Security report entitled, "Rightwing Extremism: Current Economic and Political Climate Fueling Resurgence in Radicalization and Recruitment" warns of "radical" groups like Christian cults, pro-life groups and returning military veterans. Further, West Point's Combatting Terrorism Center claims that conservatives and libertarians are a threat to society in their report called "Challengers from the Sidelines: Understanding America's Violent Far-Right." At what point will law-abiding, pro-liberty Americans be labeled "terrorists?"
DISARMING THE PEOPLE. On January 16, 2013 Barack Obama issued 23 executive orders, including 3 presidential memoranda, calling for increased gun-control. Diane Feinstein, Frank Lautenberg, and other Congresspersons have also introduced legislation to ban weapons and magazines, establish sweeping background checks, and create a centralized gun-registration system.

AMERICAN CONCENTRATION CAMPS. The National Emergency Centers Establishment Act, initiates the framework for mass-quarantine of American citizens. Congressman Alcee Hastings (D-Fl) reintroduced this bill in the 113th Congress on January 23; the bill is H.R. 390. This legislation calls for the creation of six national facilities for the concentration of civilian internees. Who are they planning to detain?

STABILITY POLICE FORCE. The George Soros-funded Rand Corporation issued a report calling for a Stability Police Force (SPF), saying "Stability operations have become an inescapable reality of U.S. foreign policy. Establishing security with soldiers and police is critical because it is difficult to achieve other objectives - such as rebuilding political and economic systems - without it."

STATE-LEVEL MILITARY ACTIVITIES. Obama signed an executive order establishing a Council of Governors, which is to be a panel of 10 state governors selected by the President who will review "review matters involving the National Guard; homeland defense; civil support; and synchronization and integration of state and federal military activities in the United States," according to the White House. Has Obama now federalized the states and gained control of the National Guard?

GOVERNMENT AMASSING WEAPONS. The Department of Homeland Security (DHS) has in its possession over 1.6 billion rounds of ammunition -- including hollow-points. The Department also has thousands of tanks for "domestic use," capable of withstanding "ballistic arms fire, mine blasts, IEDs, and other emerging threats." Why does the DHS need over a billion bullets, rifles, and tanks? We have the armed forces for our defense.

INTERNATIONAL LAW ENFORCEMENT. Obama signed executive order 12425, giving the international police force INTERPOL immunity from American law. INTERPOL now has free reign in the United States, unencumbered by the Fourth Amendment, the Freedom of Information Act, American law enforcement agencies, and the U.S. Constitution. Obama has now given our sovereignty away to an international police force.
DRONES IN OUR SKIES. In the summer of 2012, after legislation was passed and signed by President Obama, unmanned aerial vehicles were first dispatched into American skies. While these UAV's -- or drones -- are not armed, they are equipped with surveillance cameras. The records they collect are kept for 90 days.

The government's encroachment of our rights will continue as long as we fail to act! Where will this dangerous pathway end?

Take action to preserve liberty, the Republic, and individual sovereignty. Send your personalized messages to your Representative and U.S. Senators right now and ask them to DEFUND and DISMANTLE the American Police State!
Public Comments
May 21st, 2014
Someone from Brooklyn, NY writes:
"The tank, the B-52, the fighter-bomber, the state controlled police and the military are the weapons of dictatorship. The rifle is the weapon of democracy... If guns are outlawed, only the government will have guns. Only the police, the secret police, the military, the hired servants of our rulers. Only the government—and a few outlaws. I intend to be among the outlaws." -Edward Abbey
May 14th, 2014
Someone from Miami, FL writes:
Congress, you must act now to stop obamas tyranny against our republic & its citizens. It's not right & you know it. If you don't you will be fired.
May 11th, 2014
Someone from Okemos, MI signed.
May 5th, 2014
wade r. from Lorain, OH writes:
who watches the watchers?
May 3rd, 2014
Travis M. from Oak Forest, IL signed.
May 1st, 2014
Someone from Chicago, IL signed.
Apr 15th, 2014
Bob S. from Santa Maria, CA writes:
Those who make peaceful revolution impossible will make violent revolution inevitable." -JFK
Apr 13th, 2014
Matt H. from Albuquerque, NM writes:
Also get rid of inland border patrol checkpoints as they violate the 4th amendment. It only makes sense to have border patrol checkpoints at the ports of entry along international borders, not 25-100 miles inland.
Apr 3rd, 2014
Someone from Fort Myers, FL signed.
Apr 2nd, 2014
Someone from Lubbock, TX signed.
Mar 25th, 2014
Dustin J. from Oregon City, OR signed.
Mar 18th, 2014
Someone from Redding, CA writes:
YOU MUST PROTECT OUR CONSITIONAL RIGHTS AND TIME IS SHORT TO ACT.
Mar 12th, 2014
Someone from Indianapolis, IN signed.
Mar 8th, 2014
john r. from Boynton Beach, FL writes:
When giving ukraine billions of dollars in aid (your tax money) almost immediatly is sickening. Now thats tyranny!
Mar 8th, 2014
john r. from Boynton Beach, FL writes:
When giving ukraine billions of dollars in aid (your tax money) almost immediatly is sickening. Now thats tyranny!
Mar 1st, 2014
ronald c. from Sheffield, AL signed.
Feb 27th, 2014
Brooke W. from Sugar Land, TX signed.
Feb 18th, 2014
Someone from Tecumseh, KS writes:
Never thought I'd be so ashamed of my country. God help us!
Feb 18th, 2014
Someone from Tecumseh, KS writes:
Absolutely disgusting to see what this nation has become!
Feb 12th, 2014
Robert L. from Old Hickory, TN signed.
Feb 8th, 2014
Someone from Hacienda Heights, CA signed.
Feb 6th, 2014
Someone from Redding, CA writes:
God, Guts, and Guns made this Country a FREE Nation! Now I'm afraid for my children and my grandchildren......
Feb 4th, 2014
Brad H. from West Lafayette, IN signed.
Feb 4th, 2014
Joshua D. from Yukon, OK writes:
CHRISTIANS need to stand up. We are the moral voice of this culture.
Jan 31st, 2014
Someone from Fort Myers, FL signed.
Jan 18th, 2014
ROBERT B. from Nashua, NH signed.
Jan 17th, 2014
Jeffrey C. from Orlando, FL writes:
you can't reasonably explain everything the government does if for the people anymore.
Jan 12th, 2014
Someone from Miami, FL writes:
Congress, You must stop this tyranny from happening on the american people. Defund & dismantle it no matter what Obama from Kenya says or does. He is evil & will be getting americans into WW3. He will get our military involved into more foreign wars which are already stretched beyond capacity & while their gone, he will attack the USA. This has to STOP & now. God gave people the right to live free & with certain unalienable rights like our second amendment. Do this or lose your jobs in the fall.
Jan 6th, 2014
robert m. from Charleston, WV signed.
Dec 17th, 2013
Frank l. from Port Saint Lucie, FL writes:
Cops, Judges, politics,IRS , government = Death of America
Dec 4th, 2013
D M. from Jacksonville, NC signed.
Nov 25th, 2013
perry p. from Gibson, LA signed.
Nov 19th, 2013
Robert P. from San Diego, CA signed.
Nov 10th, 2013
Someone from Vail, AZ signed.
Oct 30th, 2013
deanna a. from Colorado Springs, CO signed.
Oct 13th, 2013
Someone from Los Gatos, CA signed.
Oct 3rd, 2013
VET. CARROLL W. from Jackson, TN signed.
Sep 26th, 2013
Someone from Mansfield, OH signed.
Sep 26th, 2013
Paul Vietnam Era E. from Lucas, OH writes:
While your at defund Obama's personel Army if anyone knows how it's funded. He's probably using that missing Obamacare slush fund?
Sep 26th, 2013
Paul Vietnam Era E. from Lucas, OH writes:
About time we reign in the out of control DHS.