TELL CONGRESS: STAY OUT OF SYRIA!
Messages Sent So Far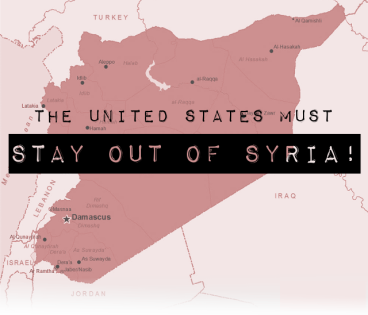 Dear President: Trump:
Dear Vice President Pence:
Dear Senators:
Dear Representative:

As a concerned American, I demand that all aid - lethal, non-lethal, and humanitarian - to the Syrian government or any of the rebel factions in opposition to the Syrian government be severed. I also demand that U.S. troops be removed from the Syrian arena.
I urge each and every member of Congress and the Trump Administration to resolve to STAY OUT OF SYRIA and turn the United States away from former President Barack Obama's dangerous, unconstitutional foreign policy regarding their affairs.
The United States' subsidization of foreign terrorists, the Free Syrian Army, is unwise, dangerous, and must not continue -- we simply cannot trust any so-called "ally" in this conflict, and it's clear that no U.S. aid to rebels is safe. (On December 11, 2013 the New York Times reported that the jihadist Islamic Front captured an entire warehouse filled with American supplies.)
The fact is, segments of the Free Syrian Army have committed heinous crimes: they've sold the blood of martyred Christians, they've beheaded humans publicly, they've murdered members of their duly-elected government, etc. -- and it's an abomination to think that my tax dollars may have subsidized these horrific acts.
Once again, I demand that all subsidies to any party in Syria from the United States be eliminated immediately.
Furthermore, I demand that the United States' military presence be entirely removed from Syria. Troops have been committed to this conflict in the absence of a War Declaration, which means their presence in the region is entirely unauthorized and that they be brought home without delay.
I am watching your actions.
For the Republic,
[Your Name Here]
***
Sign your name below to send personalized letters to your Representatives, Senators, the Trump Administration - add your name demanding the US to STAY OUT OF SYRIA right now!
Public Comments
Apr 14th, 2017
Someone from Sierra Madre, CA signed.
Apr 14th, 2017
Someone from Senoia, GA writes:
Please do not send our men and women into Syria. We have lost enough blood and treasure.
Apr 14th, 2017
Patricia K. from Philadelphia, PA signed.
Apr 14th, 2017
Someone from Midlothian, VA signed.
Apr 13th, 2017
Marilyn B. from Grannis, AR signed.
Apr 13th, 2017
Someone from Nashua, NH writes:
President Trump: I agree with Andrew McCarthy who said that there is no national security threat to the U.S. by us entering into any conflict in Syria. Let's stay out. The only thing we should be doing as a country is rescuing the Christians who are remaining in this country.
Apr 13th, 2017
Theodore W. H. from Sacramento, CA writes:
Does Syria have the right to decide that the U,S president should not be president and to attack him with proxies? Why do the U.S. believe that they have the right to decide that the president of Syria should not be president and to attack him with proxies? Think about it.
Apr 13th, 2017
James M. from Rochester, MN writes:
We killed Isis there and abortion kills babies Here
Apr 13th, 2017
Dennis W. from Pierre, SD signed.
Apr 13th, 2017
John D. from Henderson, NV signed.
Apr 13th, 2017
David A. from Waterloo, IL signed.
Apr 13th, 2017
David A. from Waterloo, IL signed.
Apr 13th, 2017
Richard Dale D. from Warner Robins, GA writes:
I believe the president acted within the Constitution,and had the right too do what was done. He did not declare ( War.)
Apr 13th, 2017
Someone from Jonesborough, TN writes:
Last time we accused Assad of gassing his own people, it turned out to be the Rebels backed by Obama and that time the poison was traced back to Hillary Clinton when she was Sec. of State. Who is advising President Trump now??
Apr 13th, 2017
Someone from Winooski, VT writes:
To the war-addicted Neo-cons: "Just say NO to Syria!"
Apr 13th, 2017
Dennis K. from Sedalia, MO signed.
Apr 13th, 2017
Ben H. from Galesburg, IL signed.
Apr 13th, 2017
Someone from Galesburg, IL writes:
stay out of Syria,we have too many troops at risk overseas now and have been sending the same ones overseas,repeatedly.
Apr 13th, 2017
Tom R. from Laramie, WY writes:
I think that 16yrs. , qualifies our meddling in the Middle East, as the longest continuous war we have ever been involved in. It's time to stop this nonsense. If Wyomings representatives want to support the continuation of this war, let them volunteer. Otherwise, please try to keep yourselves and the executive branch in check, especially in regards to Syria! There are no winners in this. Please read George Washington's farewell address and heed what he says in regards to foreign entanglements.
Apr 13th, 2017
Dale M. from Forsyth, GA signed.
Apr 13th, 2017
Stephen V. from Temecula, CA writes:
Adhere to Constitutional process in all actions undertaken by the Executive, Legislative and Judicial branches of government.
Apr 13th, 2017
Douglas M. from Santa Barbara, CA writes:
Stop being played by the Neocons!
Apr 13th, 2017
Lisette L. from Olympia, WA writes:
THESE WERE YOUR PROMISES PRESIDENT TRUMP: ASTERISKS BY EACH, SHOW THE DEGREE OF IMPORTANCE EACH ONE HAS IN MY OPINION - THESE PROMISES ARE THE REASON I VOTED YOU INTO OFFICE - I NEED TO SEE YOU KEEP ALL OF THEM. AND STOP THIS SHARIA "THING" FROM TAKING OUR LAND AND PEOPLE; AMERICA IS A CHRISTIAN NATION. ALL THOSE PEOPLE NEED TO GO BACK TO THEIR COUNTRY IF THEY WANT SUCH LAWS TO GOVERN THEM - WE DO NOT WANT IT HERE IN THE USA. *******1. Build a wall along the southern border that's taller than the arenas where Trump holds his rallies, taller than any ladder and one foot taller than the Great Wall of China. This "artistically beautiful" wall will be constructed out of hardened concrete, rebar and steel, and it will be "the greatest wall that you've ever seen" -- so great that the nation will likely one day name it "The Trump Wall." ***2. Make Mexico pay for the wall. 3. "If I become president, we're all going to be saying 'Merry Christmas' again." ***4. Get rid of Common Core. ***5. The Environmental Protection Agency might also disappear. 6. Get rid of Obamacare and replace it with something "terrific" that is "so much better, so much better, so much better." 7. Knock down the regulatory walls between states for health insurance, making plans available nationally instead of regionally. 8. Rebuild the country's aging infrastructure -- especially bridges and airports that look like they belong in a third-world country -- for one-third of what the United States is currently paying for such projects. *****9. Save Medicare, Medicaid and Social Security without cutting benefits. 10. Defund Planned Parenthood. 11. "I will take care of women. 12. Frequently use the term "radical Islamic terrorism." *****Temporarily ban most foreign Muslims from entering the United States ". 14. Bar Syrian refugees from entering the country and kick out any who are already living here. **15. Heavily surveil mosques in the United States. 16. Create a database of Syrian refugees. 17. Never take a vacation while serving as president. *18. Prosecute Hillary Clinton. *****19. Make medical marijuana widely available to patients, and allow states to decide if they want to fully legalize pot or not. 20. Stop spending money on space exploration. 21. Pick Supreme Court justices who are "really great legal scholars." 22. Ensure that Iowa continues to host the nation's first presidential nominating contest. 23. Strengthen the military so that it's "so big and so strong and so great" that "nobody's going to mess with us." 24. Be unpredictable. 25. Allow Russia to deal with the Islamic State in Syria. *26. "Bomb the s--- out of ISIS." 27. Target and kill the relatives of terrorists. 28. Shut down parts of the Internet. 29. Bring back waterboarding. 30. Leave troops in Afghanistan because it's such "a mess." Protect Israel. And increase U.S. military presence in the East and South China Seas. *31. Find an "out" clause in the Iran deal and then "totally" renegotiate the whole thing. 32. "I promise I will never be in a bicycle race. 33. Refuse to call Iran's leader by his preferred title. 34. Negotiate the release of all U.S. prisoners held in Iran before taking office. 35. Oppose the killing of journalists. 36. Find great generals -- like the next Gen. Patton or Gen. MacArthur -- and do not allow them to go onto television news shows to explain their military strategy: 37. Drop that "dirty, rotten traitor" Bowe Bergdahl out of an airplane into desolate Afghanistan without a parachute. 38. Fire "the corrupt and incompetent" leaders of the U.S. Department of Veterans Affairs. 39. Invest more heavily in programs that help military veterans transition back to civilian life. 40. Bring back jobs from China, Mexico, and everywhere else they have been given to. *41. "I will be the greatest jobs president that God ever created." 42. Students at Wofford College in South Carolina, where Trump attended a town hall, will all have jobs at graduation. 43. Aggressively challenge China's power in the world. 44. Rather than throw the Chinese president a state dinner, buy him "a McDonald's hamburger and say we've got to get down to work." 45. Replace "free trade" with "fair trade." 46. Put billionaire hedge fund manager Carl Icahn in charge of trade negotiations with China and Japan. 47. Tell Ford Motor Co.'s president that unless he cancels plans to build a massive plant in Mexico, the company will face a 35 percent tax on cars imported back into the United States. . 48. Force Nabisco to once again make Oreos in the United States. . *49. Impose new taxes on many imports into the country. . 50. Grow the nation's economy by at least 6 percent. 51. Reduce the $18 trillion national debt. 52. Cut the budget by 20 percent by simply renegotiating. *53. Get rid of the Dodd-Frank Wall Street Reform and Consumer Protection Act. 54. Simplify the U.S. tax code and reduce the number of tax brackets from seven to four. *55. No longer charge income tax to single individuals earning less than $25,000 per year or couples earning less than $50,000. 56. Ensure that Americans can still afford to golf. This is stupid: most of us can't pay bills. 57. Allow corporations a one-time window to transfer money being held overseas. *58. Get rid of most corporate tax loopholes or incentives. *59. On his first day in office, Trump would get rid of gun-free zones at military bases and in schools. 60. Use "common sense" to fix the mental health system and prevent mass shootings. 61. Impose a minimum sentence of five years in federal prison for any violent felon who commits a crime using a gun. 62. Fix the background check system used when purchasing guns. *63. Allow concealed-carry permits to be recognized in all 50 states. 64. Sign an executive order calling for the death penalty for anyone found guilty of killing a police officer. 65. Provide more funding for police training. 66. Provide more funding for drug treatment. *67. On the first day in office, terminate President Obama's executive orders related to immigration. This includes getting rid of "sanctuary cities" that Trump says have become refuges for criminals. *68. Deport the almost 11 million immigrants illegally living in the United States. 69. Triple the number of U.S. Immigration and Customs Enforcement officers. 70. Continue to allow lowly paid foreign workers to come to the United States on temporary works visas. *71. End birthright citizenship. 72. Say things that are politically incorrect. 73. Make America great again. 74. Be a cheerleader for America and bring the country's spirit back. 75. Bring back the American Dream. 76. Start winning again.
Apr 13th, 2017
Fred W. from Burlingame, CA signed.
Apr 13th, 2017
Fred W. from Burlingame, CA signed.
Apr 13th, 2017
German C. from Old Forge, PA signed.
Apr 13th, 2017
AK H. from Fort Worth, TX signed.
Apr 13th, 2017
Robert A F. from Virginia Beach, VA writes:
Stay out of Syria; the middle east has been in turmoil since the beginning of time and commitment of American Troops and lives will not alter anything. A thousand years from now they will be committing the same acts of war against each other. The best that can be done is let the nations of the world act as referees.
Apr 13th, 2017
Wallace S. from O Fallon, MO writes:
This is not an american peoples priority today. Maybe tomorrow.
Apr 13th, 2017
Tom S. from Palm Beach Gardens, FL writes:
We don't believe our own 'intelligence' agencies any longer. The well has been poisoned by all the past lies and distortions and false flags .... going back decades.
Apr 13th, 2017
suzanne k. from San Clemente, CA signed.
Apr 13th, 2017
THOMAS B. from Coal Township, PA signed.
Apr 13th, 2017
STEVEN L. from Anaheim, CA signed.
Apr 13th, 2017
ken r. from Harrah, OK signed.
Apr 13th, 2017
Keith C. from Austin, TX signed.
Apr 13th, 2017
Someone from Phoenix, AZ writes:
Focus upon America 1st & drain the swamp. (Trust and intel, certainly aren't there, yet.)
Apr 13th, 2017
Keith C. from Austin, TX writes:
Stop the mil/ind complex, no nation building. It has never worked and never will. we have no business in the Middle East, and no need to take refugees from these countries.
Apr 13th, 2017
Stephen W. from Milan, PA writes:
How many trillions of dollar in debt do we have to be before you understand that nothing will change over there but the US will collapse under the weight of it's own debt?
Apr 13th, 2017
Someone from Lizella, GA writes:
We do not need another war, the American people are tired of wars. Only when there is genocide!
Apr 13th, 2017
Wayne S. from New Albany, OH writes:
No boots on thr ground in Syria.