TELL CONGRESS: STAY OUT OF SYRIA!
Messages Sent So Far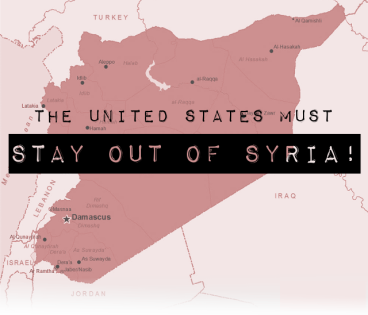 Dear President: Trump:
Dear Vice President Pence:
Dear Senators:
Dear Representative:

As a concerned American, I demand that all aid - lethal, non-lethal, and humanitarian - to the Syrian government or any of the rebel factions in opposition to the Syrian government be severed. I also demand that U.S. troops be removed from the Syrian arena.
I urge each and every member of Congress and the Trump Administration to resolve to STAY OUT OF SYRIA and turn the United States away from former President Barack Obama's dangerous, unconstitutional foreign policy regarding their affairs.
The United States' subsidization of foreign terrorists, the Free Syrian Army, is unwise, dangerous, and must not continue -- we simply cannot trust any so-called "ally" in this conflict, and it's clear that no U.S. aid to rebels is safe. (On December 11, 2013 the New York Times reported that the jihadist Islamic Front captured an entire warehouse filled with American supplies.)
The fact is, segments of the Free Syrian Army have committed heinous crimes: they've sold the blood of martyred Christians, they've beheaded humans publicly, they've murdered members of their duly-elected government, etc. -- and it's an abomination to think that my tax dollars may have subsidized these horrific acts.
Once again, I demand that all subsidies to any party in Syria from the United States be eliminated immediately.
Furthermore, I demand that the United States' military presence be entirely removed from Syria. Troops have been committed to this conflict in the absence of a War Declaration, which means their presence in the region is entirely unauthorized and that they be brought home without delay.
I am watching your actions.
For the Republic,
[Your Name Here]
***
Sign your name below to send personalized letters to your Representatives, Senators, the Trump Administration - add your name demanding the US to STAY OUT OF SYRIA right now!
Public Comments
Jun 19th, 2017
Katherine B. from Windermere, FL signed.
May 4th, 2017
Jeff S. from Red Lion, PA writes:
No more banker wars for globalism. Bring the troops home and put them on the southern border!
Apr 24th, 2017
J G. from Sherman, TX signed.
Apr 20th, 2017
John M. from Jackson, NJ signed.
Apr 20th, 2017
Someone from Brooklyn, NY writes:
Let the Muslim b..st..ds kill each other. Good riddance.
Apr 20th, 2017
jack c. from Brooklyn, NY signed.
Apr 18th, 2017
Someone from Memphis, TN signed.
Apr 18th, 2017
Fern L. from Ephrata, PA writes:
The US needs to stay out of Syria
Apr 18th, 2017
Tj E. from Durant, OK writes:
Lock down the mexican/USA BORDER NOW !!
Apr 17th, 2017
Terrie H. from Mesa, AZ signed.
Apr 17th, 2017
Eli D. from Medford, OR writes:
Trump promised he would never lie to us, but then he told us that there is no doubt that Assad gassed his own people. This is an obvious lie about yet another obvious false flag attack. Stand up for truth. Get America out of Syria. Stop supporting terrorists. Stop pushing for WWIII with Russia and China. Save the Earth from nuclear destruction.
Apr 17th, 2017
Betty E. from Abilene, TX signed.
Apr 17th, 2017
James J. from Palm Desert, CA writes:
Stop destabilizing governments around the world. Syria does not pose a threat to the United States-except to perhaps it's financial institutions and their globalist policies. Mr. President, crawl back within Constitutional parameters that limit the abuse and overreach of clearly delegated powers. CIA you are on the wrong side of history. The Constitution for the United States did not create a butcher shop. So, stop the butchery, the lies, and pretexts for violence against humanity.
Apr 17th, 2017
Howard L. from Struthers, OH writes:
Stay out of Syria. No boots on the ground.
Apr 17th, 2017
Welcome W. A. from Meridian, ID signed.
Apr 17th, 2017
Philip K. from Elk Grove, CA writes:
I agree. Syria has not committed an act of war against the United States. We should not commit acts of war against Syria. If they commit war crimes against the international law, then we should act only in association with the international community. And that goes for worldwide involvement.
Apr 17th, 2017
MIKE N. from Amery, WI signed.
Apr 17th, 2017
John R. from Estes Park, CO signed.
Apr 17th, 2017
Robert S. from Bremen, IN signed.
Apr 17th, 2017
Someone from Fort Worth, TX signed.
Apr 17th, 2017
Ricky S. from Murrieta, CA writes:
We need to remain focused on homeland reconstruction first and foremost. Secondly, I believe we must remain on task with continuing to track and target ISIS, to reduce their numbers and work towards eradicating them as a terrorist threat. We must to to N.Korea as our next but equally important threat of N. Korea and them as a nuclear threat. We must work with our allies to devise a method to remove Kim Jong Un from power, and remove N. Korea as a nuclear threat moving forward. Syria is not a place we need to further intervene at this time. I believe we should continue to monitor chatter and investigate further into Al Assad's presidency and alleged use of chemical weapons on his own people. Let us be certain by the continued use of surveillance before we commit to getting involved in nation building and regime changing. Please stay out of Syria for now, but continue to monitor.
Apr 16th, 2017
Christine M. from Rahway, NJ signed.
Apr 16th, 2017
Someone from Rahway, NJ writes:
Apr 16th, 2017
W L T. from Butler, PA signed.
Apr 16th, 2017
Ronald J. from Juliette, GA signed.
Apr 16th, 2017
Carl W. from Charlottesville, VA writes:
The United States of America is neither the Savior nor the Judge of the Nations.
Apr 16th, 2017
Someone from Green Valley, AZ signed.
Apr 16th, 2017
Someone from Columbia, PA writes:
No involvement in another country. No more intervention. This is not accomplishing what is needed.
Apr 16th, 2017
Adrian L. from Los Angeles, CA signed.
Apr 16th, 2017
Mj B. from Holly Ridge, NC writes:
Let us save our resources to defend America...not get caught in a setup.
Apr 16th, 2017
Ronald H. from Dumfries, VA writes:
Foreign governments intervening in the muslim country's has never worked. In addition to the fiascoes within the French and British after WWI to the British getting their hat handed to them in Afghanistan, as the same thing with Russia, the U.S. has been in Afghanistan for 17 years and what have we gained. STOP THE NONSENSE and get out of the region.
Apr 16th, 2017
Someone from New York, NY writes:
We can't afford to get into another conflict.The US Citizens will have none of it..No more troops to be sent. Might as well bomb the blank as President Trump said.
Apr 16th, 2017
John S. from Stamford, CT writes:
Too much American blood has been spilled and too much treasure has been squandered. Enough!
Apr 16th, 2017
neal t. from Las Vegas, NV signed.
Apr 16th, 2017
sheila t. from Las Vegas, NV signed.
Apr 16th, 2017
neal t. from Las Vegas, NV signed.
Apr 16th, 2017
Kavih W. from Watsonville, CA signed.
Apr 16th, 2017
Someone from Palmetto, FL signed.
Apr 16th, 2017
Jay L. from Seattle, WA writes:
Do not let john mclame, lindsey scgrahm, or any other warmonger lure any of the rest of Congress, or the President into going into Syria. The United States cannot, at this time,sustain the type of operation that would be needed to do it alone. There is no evidence Assad, nor Putin, were responsible for the alleged 'gas attack'. Television 'news' is easily manipulated, manufactured, and/or produced without even being on the same side of the earth as the 'events' 'reported'. Remember, DO NOT TRUST the so-called 'intelligence' agancies, there has not, is not, and should not be entrusted with an ounce of confidence and trust, judging by past transgressions against the President and the administration. They accuse the President with NO proof to back up their accusations- NONE. Gather your most trusted and experienced of your inner circle, Mr. President, in order to investigate and disclose the truth with concern to the supposed 'gas' attack. A little investiment for the truth now will save a great price the United States will pay if another 'mistake' is made in the middle east..
Apr 15th, 2017
Sue C. from Nederland, TX signed.