Tell Congress: Reject ALL Federal Gun-Control Legislation!
Our Constitution -- the Supreme Law of the Land -- included the Second Amendment provision to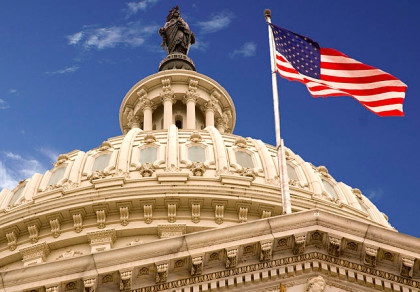 Included in our Constitution, the Second Amendment provision to "keep and bear arms" was to ensure that the new American government could not disarm the people.

Our forefathers knew the importance of an armed citizenry as a check against big government and tyranny. They knew that in a free society individuals should always be at liberty to protect themselves, their families, and their property.

Those who were armed were not considered offensive, violent, or malevolent in any way -- in fact, early Americans considered defense to be a God-given right to secure households and keep evil at bay in society. Weapons were not held for aggression, but to resist aggression!

Right now there are a multitude of aggressors wanting to destroy the Second Amendment by banning certain weapons, limiting access to ammunition, and increasing the bureaucratic "paperwork" required to purchase guns.

Take Action! Send a message to your U.S. Representative and both of your U.S. Senators demanding that they oppose any and all forms of gun-control via legislation and amendments to legislation!
Public Comments
Dec 24th, 2012
Gary and Evelyn J. from Lexington, SC signed.
Dec 24th, 2012
anthony g. from Henry, TN signed.
Dec 24th, 2012
Someone from La Mesa, CA writes:
* Guns are used 2.5 million times a year in self-defense. Law-abiding citizens use guns to defend themselves against criminals as many as 2.5 million times every year—or about 6,850 times a day.(1) This means that each year, firearms are used more than 80 times more often to protect the lives of honest citizens than to take lives.(2) * Even anti-gun Clinton researchers concede that guns are used 1.5 million times annually for self-defense. According to the Clinton Justice Department, there are as many as 1.5 million cases of self-defense with a firearm every year. The National Institute of Justice published this figure in 1997 as part of "Guns in America"—a study which was authored by noted anti-gun criminologists Philip Cook and Jens Ludwig.(3) * Concealed carry laws have reduced murder and crime rates in the states that have enacted them. According to a comprehensive study which reviewed crime statistics in every county in the United States from 1977 to 1992, states which passed concealed carry laws reduced their rate of murder by 8.5%, rape by 5%, aggravated assault by 7% and robbery by 3%.(4) * Anti-gun journal pronounces the failure of the Brady law. One of the nation's leading anti-gun medical publications, the Journal of the American Medical Association, found that the Brady registration law has failed to reduce murder rates. In August 2000, JAMA reported that states implementing waiting periods and background checks did "not [experience] reductions in homicide rates or overall suicide rates."(5) * Twice as many children are killed playing football in school than are murdered by guns. That's right. Despite what media coverage might seem to indicate, there are more deaths related to high school football than guns. In a recent three year period, twice as many football players died from hits to the head, heat stroke, etc. (45), as compared with students who were murdered by firearms (22) during that same time period.(6) * More guns, less crime. In the decade of the 1990s, the number of guns in this country increased by roughly 40 million—even while the murder rate decreased by almost 40% percent.7 Accidental gun deaths in the home decreased by almost 40 percent as well.(8) * CDC admits there is no evidence that gun control reduces crime. The Centers for Disease Control (CDC) has long been criticized for propagating questionable studies which gun control organizations have used in defense of their cause. But after analyzing 51 studies in 2003, the CDC concluded that the "evidence was insufficient to determine the effectiveness of any of these [firearms] laws."(9) * Gun shows are NOT a primary source of illegal guns for criminals. According to two government studies, the National Institute of Justice reported in 1997 that "less than two percent [of criminals] reported obtaining [firearms] from a gun show."(10) And the Bureau of Justice Statistics revealed in 2001 that less than one percent of firearm offenders acquired thei
Dec 24th, 2012
David F. from La Mesa, CA signed.
Dec 24th, 2012
David F. from La Mesa, CA writes:
You know and I know it, your gun ban proposal is idiotic . So what's the real purpose Diane? Why don't you focus on the real issues, instead of making things worse for law-biding citizens . You are a phony. The fact that you are still in office just goes to show how stupid California's are. Government education .. Working well isn't it.
Dec 24th, 2012
Brian L. from Morganton, GA signed.
Dec 23rd, 2012
Ryan P. from Puyallup, WA signed.
Dec 23rd, 2012
Ryan P. from Puyallup, WA signed.
Dec 23rd, 2012
Ryan P. from Puyallup, WA signed.
Dec 23rd, 2012
Aileen H. from Anchorage, AK writes:
I know it is alot to ask for common sense, honesty, logic and truth when the media and the dems want to issue gun control or at least the prelude to total gun removal. The school shooting was a terrible tragedy. However, in the states with the strictest gun laws are the states with the highest murder rates - D.C., Illinois, New York - murder capitals of the world - so obviously the criminals get gun where the honest citizen can't. Guns aren't the killer, the gunman is and when it is almost impossible to get help for a person that you see is having major problems - voluntary commitments or immient danger - even people who could have prevented this didn't have the tools available to stop someone who is mentally deranged. I hope you all have reread how Hitler took over Germany, because things look mighty similar. First class warefare Jews/then the confiscation of guns. There has already been trial ballons on turning in ones neighbor or family member, the changing of the flag (pulled at least temporarily) destroying realigon, destroying traditions Christmas is Holiday season....the worst tragedies have been caused by government - Reno/Clinton Branchdavidians what was that 80 to 86 children, women, and men or Ruby Ridge. There are probably others like Benghazi L
Dec 23rd, 2012
Someone from Easthampton, MA signed.
Dec 23rd, 2012
Someone from Kingman, AZ signed.
Dec 23rd, 2012
Kathleen M. from Nokomis, FL signed.
Dec 22nd, 2012
Virginia H. from Saint Helen, MI writes:
Dis-arming the innocent just give the real criminals an open field of victims. I can't believe how stupid some people think.
Dec 22nd, 2012
Michael S. from Charleston, WV writes:
I am not a member of the NRA, or any other organization associated with gun ownership. I'm signing this because of the lessons I learned from history, and by observing current events, especially in the Middle East.
Dec 22nd, 2012
Randy W. from Akron, OH writes:
If it were possible to remove every gun from society. These types of tragedy will still happen they would find another way to get it done. You want to make a difference and stop the violence and pass a law cover all the areas. Movies, video games, News broadcasts,cartoons.PEOPLE KILL PEOPLE not guns.
Dec 22nd, 2012
Someone from Willis, TX signed.
Dec 22nd, 2012
Kelly A. from Lexington, KY writes:
Guns don't kill people, people kill people. Instead of taking away our protection, please use the time and energy to look into the mental health issues in our country.
Dec 22nd, 2012
Paula M. from Wimberley, TX writes:
The Government under our Constitution has no right to take our Guns. We will not give up our weapons and any party or President that does not stand by our Constitutional Rights which he swore to uphold, should be Impeached Immediately for Treason!
Dec 22nd, 2012
Someone from Merrillville, IN signed.
Dec 22nd, 2012
Don F. from Hot Springs National Park, AR signed.
Dec 21st, 2012
John P. from Milwaukee, WI signed.
Dec 21st, 2012
Someone from Missouri City, TX signed.
Dec 21st, 2012
Raymond N. from Corvallis, OR signed.
Dec 21st, 2012
Kathy S. from Windermere, FL writes:
Congress, it's way past time for you to start impeaching your fellow members who continue to destroy our Constitutional Rights and ignore our Federal Laws!
Dec 21st, 2012
Someone from Dunellen, NJ signed.
Dec 21st, 2012
Someone from Dunellen, NJ signed.
Dec 21st, 2012
Daniel B. from Westbrook, ME signed.
Dec 21st, 2012
james b. from Ironton, OH writes:
Firearms are the teeth of Liberty.
Dec 21st, 2012
Jerry W. from Nahunta, GA signed.
Dec 21st, 2012
Someone from Phoenix, AZ writes:
i grew up with guns in our home and did not nor ever took them out to play with them or use them without respect for what they can do. Banning guns does not stop those who want to destroy from doing so. Do we ban alcohol because the person drinking goes out and kills someone no! do we ban cigarettes because they kill pleople, cause birth defects and can hurt innocent children no! We need to teach people respect for one another, return to the values that our founding fathers wrote our constitution for. Continuing to make laws to enforce laws already made does not help us. Lets take a look at what really is the matter and taking away our freedoms which the constitution gave us does not work. if not guns those who want to kill will kill, like bombs and knifes and airplanes. Let us be able to protect ourselves and our families.
Dec 21st, 2012
Someone from Glendale, AZ writes:
Please take action so no more first-graders have to die in a blast of automatic weapon fire. Please support a ban on automatic weapons and large magazines.
Dec 21st, 2012
Someone from Houston, TX signed.
Dec 21st, 2012
Marvin D. from Buena Vista, CO writes:
The definition of an assualt weapon by the gun grabbers is 'if it looks like an assult weapon it is an assualt weapon'.
Dec 21st, 2012
Gordon G. from Fortville, IN writes:
Prior to the Kennedy assasination,Lee Harvey Oswald ordered a Carcano rifle from Kliens in Chicago. Causing a law preventing anyone from ever doing it again without a license. This did nothing to stop gun crime. Limited magazine capacity does nothing more than causing a perpetrator to practice reloading smaller magazines. New laws and the government can not and never will prevent someone that is hell-bent on a killing spree from performing it.Also an AR-15 is nothing more than a semi-automatic version of the military's M16 and M 4 automatic rifles and carbines which are true machineguns. AR 15's are not unlike any semi automatic hunting or sporting rifle. Only difference is appearance . Both function the same .Both are magazine fed semiauto rifles. Gun free zones give perpetrators freedom to kill unabated. It is not time to disarm but to arm and install armed police in schools and to make it difficult for perpetrators to kill innocents like shooting fish in a barrel.Murderers and criminals are not going to comply with laws that causes them to stop killing,they don't apply to them.These laws do nothing to protect innocents. But do take away the citizen's ability to protect himself and family. Also take away our ability to keep tyranny in check Which is why we were given the 2nd ammendment to begin with.Time to step up and protect our schools with armed teachers and police. Tell the gun grabbers to refrain from being stuck on stupid!
Dec 21st, 2012
Aileen H. from Anchorage, AK writes:
Guns don't kill people do. This man was suffering mental problems and if anything needs to be addressed it is better facilities and better ways to get a person with a mental condition helped. One of the worst killings was in the Clinton Administration under Janet Reno where 80 or more women, men and children were killed by the FBI/CIA military. If this shows that law enforcement is better able to handle weapons then I think we need a better discussion. Under Reno also was the killing of a mother and her baby on Ruby Ridge. These were assault on citizens. Removing guns from citizens would be the way to enforce total control on the people. This is why our founders made sure to arm the citizens, they had lived in a world where they were at the rulers mercy. We are rapidly becoming a dictatorship under this administration. Let's not forget the edict "never waste a good crisis". No gun control - more people are killed by drunk drivers than are killed by people with guns and most murders by guns are committed in New York, D.C., Chicago Ill and other states that have the most restrictive gun laws.
Dec 21st, 2012
Ingrid P. from Washburn, WI writes:
Guns are only as Dangerous as the Irrisponsible Person who uses them.Please don't Attempt to take away our Right to bear Arms.
Dec 21st, 2012
camden d. from Maryville, TN signed.
Dec 21st, 2012
Someone from Nottingham, NH signed.
Dec 21st, 2012
Tony P. from Gladwin, MI signed.