Tell Congress: Pass the Fair Tax Act of 2017!
Messages Sent So Far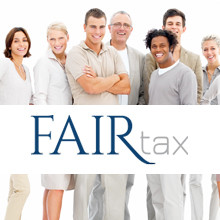 The current federal income tax system is clearly broken — unfair, overly complex, and almost impossible for most Americans to understand.
But there is a reasonable, nonpartisan alternative before Congress that is both fair and easy to understand. A system that allows you to keep your whole paycheck and only pay taxes on what you spend.
It's called the FairTax. Introduced in the U.S. House and Senate as H.R. 25 and S. 18, respectively, The FairTax is a national sales tax that treats every person equally and allows American businesses to thrive, while generating the same tax revenue as the current four-million-word-plus tax code... and without the I.R.S.
The Fair Tax Act of 2017 is the only tax replacement plan before the U.S. Congress that:

Eliminates all federal income and payroll taxes including personal, gift, estate, capital gains, alternative minimum, Social Security/Medicare, self-employment and corporate.
Eliminates the need for businesses and individuals to file federal income tax returns.
Eliminates over 74,000 pages of Internal Revenue Code and the estimated $350 billion in annual compliance costs.
Defunds, disbands and eliminates the Internal Revenue Service.
Favors American businesses and workers over foreign corporation, and dramatically increases the rate of economic growth and job creation.
Brings American jobs back to America and generates employment opportunities for the hundreds of thousands of chronically unemployed.
Repeals the 16th Amendment and direct taxation through companion legislation.
Take action and tell your U.S. Representative and Senators to co-sponsor the Fair Tax Act of 2017. Add your name in the fields below to proceed to send your no-cost letters.
Be a part of the FAIRtax movement and help make make April 15 just another spring day. Visit FAIRtax.org.
Public Comments
Sep 6th, 2017
Thomas C. from Fort Lauderdale, FL signed.
Sep 6th, 2017
Jerry L. from Spring Hill, FL writes:
It is well known and documented that the current federal tax system is an abomination of inefficiency, waste. It has grown increasingly perverse for decades, primarily because congress has found it expedient to use it to reward special interests and as a means to (ineptly) manage and control our economy and the behavior of segments the population, rather than as simply a tool to raise the funds necessary to carry out the necessary and legitimate function of government while causing as little adverse impact on the lives of the citizens as possible. The Fair Tax would reverse that progression and unleash major parts of our economy to produce the levels of growth that would make major inroads into balancing the budget, while restoring the tax system to the simplicity, transparency and fairness to all that should be the goals of every elected official. Isn't that the sort of thing you were elected to accomplish? In the world I live in being hired to do a job and then doing something entirely different could get you replaced by someone who will follow through on their commitments.
Sep 5th, 2017
Pamela R. from The Villages, FL writes:
Tell President Trump to send the FAIRtax, HR 25 to Congress. It addresses ALL four goals of his tax plan, 1) tax relief for middle class Americans, 2) simplify the tax code, 3) grow the American economy & 4) don't add to the national debt or deficit - are easily and quickly accomplished with the FAIRtax. The FAIRtax also solves two other serious problems that plague the income tax - evasion and stability. Evasion of the current income tax is between 20% and 25% which means the people that are paying their fair share have to make up the difference. A consumption tax, such as the FAIRtax, is almost impossible to evade. Congress makes almost daily changes to the income tax code. This lack of stability means businesses cannot plan for the future. The only thing business owners can predict about the income tax is that it won't be the same tomorrow, next week or next year. These constant changes makes it nearly impossible to plan ahead. As long as we keep the income tax, Congress and the lobbyists will work together to make constant changes to the tax code. The FAIRtax fixes this problem because of its simplicity. So the FAIRtax accomplishes all of the Presidents tax reform goals and it fixes the evasion and stability problems. What's not to like?
Sep 5th, 2017
Franklin S. from Ocklawaha, FL signed.
Sep 5th, 2017
Franklin S. from Ocklawaha, FL signed.
Sep 5th, 2017
Edward J. from New Port Richey, FL writes:
The FAIR TAX is the obvious answer to our terrible income tax system. Our Congress and Senate MUST support it!!!
Sep 5th, 2017
Louis B. from Lynn Haven, FL writes:
Our children and grandchildren will thank you for your support of "The Fair Tax." We need reform, and this is it. For Fl. District 2 Neal Dunn, and for Sen. Rubio, and Sen. Nelson of Fl. We need your support of this important new concept. More importantly, the citizens of these United States deserve better than what we now have.
Sep 5th, 2017
Leslie R. from Clearwater, FL writes:
This plan really works. you must take a little time to understand the whole plan to know why the negative comments about it are wrong.
Sep 5th, 2017
Roger K. from Saint Cloud, FL signed.
Sep 5th, 2017
Greg H. from Spring, TX writes:
Fantastic plan. It combines the simplicity, and lack of necessary government intrusion, of a sales tax with the progressive nature of our current income tax. The only reason our leaders would oppose it is to continue allowing lobbyist shenanigans.
Sep 5th, 2017
Paul L. from Jacksonville, FL writes:
The 31 reasons for tax reform by the Ways & Means Committee ignores the three best reasons for tax reform. Tax consumption instead of production...Eliminate direct taxation...Control tax evasion. The FAIRtax bill HR25/S18 does all three plus covering the 31 reasons.
Sep 5th, 2017
John N. from Kissimmee, FL writes:
It's the solution. Nothing ventured, nothing gained! Bureaucrats know that this proposal would reduce their influence and power. If they don't support it, vote them OUT!
Sep 5th, 2017
John N. from Kissimmee, FL signed.
Sep 5th, 2017
Terence V. from Bradenton, FL writes:
Long overdue and needed to make the economy light up and much more fair to all citizens.
Sep 5th, 2017
Charles F. from Niceville, FL writes:
The Fair Tax gets rid of all tax loopholes and is the best way to accomplish tax reform .
Sep 5th, 2017
Terry H. from Panama City, FL writes:
FAIR TAX H R 25 !!!! It so simple, even a Congressman can understand !
Sep 3rd, 2017
Paul L. from Jacksonville, FL writes:
A leader works on the root cause: Confucius The root cause of federal taxation is that it is abased on taxing production (income, savings and investment) instead of consumption as enabled by direct taxation via the 16th Amendment. The FAIRtax bill HR 25/S 18 is the solution.
Sep 1st, 2017
Janice K. from Charlotte, NC signed.
Sep 1st, 2017
Janice K. from Charlotte, NC signed.
Aug 30th, 2017
Someone from Tupelo, MS writes:
Encourages working, saving, and investing at the same time it encourages reducing, reusing, and recycling. Exactly what American needs.
Aug 30th, 2017
Clifford S. from Bristow, OK writes:
Even drug dealers who love their bling and foreign visitors to the US would pay with the Fair Tax.
Aug 30th, 2017
Edward H. from Shirley, NY signed.
Aug 30th, 2017
Jeremy C. from Bella Vista, AR writes:
Level the playing field. Pass the Fair Rax (H.R. 25 and S.18)!
Aug 29th, 2017
Jerry A. from Long Beach, MS writes:
Vote for the Fair Tax or I won't vote for you...
Aug 29th, 2017
Anthony F. from Seattle, WA writes:
The benefits of the Fair Tax are clear and obvious. Who benefits from keeping the IRS around?
Aug 29th, 2017
Ashley C. from Everett, WA signed.
Aug 29th, 2017
from New Prague, MN signed.
Aug 29th, 2017
Michelle D. from Lawrenceville, GA writes:
Already introduced as H.R.25. It's time to pass it
Aug 29th, 2017
Michelle D. from Lawrenceville, GA writes:
Already introduced as H.R.25. It's time to pass it
Aug 29th, 2017
Nathan S. from Lenexa, KS signed.
Aug 29th, 2017
Someone from Tuscaloosa, AL writes:
This is the best way to put money back into the pockets of hard working United States citizens and still ensure that our country has the means nessesary to run essential programs.
Aug 29th, 2017
Dawn R F. from Uniontown, PA writes:
Congress, this is a very real opportunity to benefit Americans in a wonderful, tangible way. It is time for The Fair Tax Act to be passed, to become a reality in our lives. Please pass H.R. 25 and S. 18.
Aug 29th, 2017
Michael S. from Cedar Rapids, IA writes:
The FairTax is the most simple and straightforward tax system we could adopt, that is truly "sweeping tax reform." It eliminates the IRS and income and payroll taxes, so everyone keeps their entire paycheck, while un-taxing working poor U.S. citizens via the prebate and the elimination of regressive flat FICA and Medicare payroll taxes that is withheld from everyone's paycheck. Most importantly, the intrusive IRS and billions in individual and corporate federal and payroll tax compliance costs each year are eliminated and no tax returns are ever needed again. We only pay the federal Fairfax on purchases of new goods and services and this includes everyone, including those in the U.S. illegally or operating criminal enterprises- since everyone who lives here has to consume goods and services to live. These new goods and services will cost significantly less due to embedded income and payroll taxes now being removed from the roll-up of costs that go into the price of every good and service we consume, which offsets to a substantial degree the inclusive FairTax that will now be included in the price of new goods and services. The FairTax encourages "legal" immigration, since a social security number is needed to receive the prebate and will be a great step in becoming more environmentally friendly as a nation, since the paper printed out each year to comply with 77,000 pages of IRS rules, regulations and tax court opinions and rulings could stretch around the earth thousands of times, and the FairTax will encourage the purchase of many more "used" items since the FairTax is only included in the price of new goods and services. Lastly, a significant portion of Washington D.C. lobbyists will be unnecessary since there will be no more special treatment tax exemptions, exclusions or carve-outs to lobby for, and politicians won't be able to use the tax code to divide this great nation along ideological lines any more, since the only political debate will be what the FairTax "rate" should be.
Aug 28th, 2017
David Eric L. from Alexandria, OH writes:
Let's get the USA back on a sustainable path. Real tax reform would be a great start.
Aug 28th, 2017
Adam P. from Lawrenceville, GA signed.
Aug 28th, 2017
robert b. from Minneapolis, MN writes:
yes, please. do support this
Aug 28th, 2017
Someone from Rehoboth, MA writes:
We can no longer afford a culture of endless consumption and a Political Economy that robs labor and capital of their ability to work and aid each other. Let us not have another generation of indigent people who cannot bargain for their best deal. If this isn't passed, you should be voted out with everyone else.
Aug 28th, 2017
Kristy C. from Jacksonville, FL signed.
Aug 28th, 2017
Someone from Apo, AE signed.
Aug 28th, 2017
Michael S. from Cedar Rapids, IA writes: