Tell Congress: Pass the Fair Tax Act of 2017!
Messages Sent So Far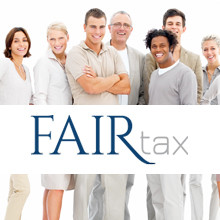 The current federal income tax system is clearly broken — unfair, overly complex, and almost impossible for most Americans to understand.
But there is a reasonable, nonpartisan alternative before Congress that is both fair and easy to understand. A system that allows you to keep your whole paycheck and only pay taxes on what you spend.
It's called the FairTax. Introduced in the U.S. House and Senate as H.R. 25 and S. 18, respectively, The FairTax is a national sales tax that treats every person equally and allows American businesses to thrive, while generating the same tax revenue as the current four-million-word-plus tax code... and without the I.R.S.
The Fair Tax Act of 2017 is the only tax replacement plan before the U.S. Congress that:

Eliminates all federal income and payroll taxes including personal, gift, estate, capital gains, alternative minimum, Social Security/Medicare, self-employment and corporate.
Eliminates the need for businesses and individuals to file federal income tax returns.
Eliminates over 74,000 pages of Internal Revenue Code and the estimated $350 billion in annual compliance costs.
Defunds, disbands and eliminates the Internal Revenue Service.
Favors American businesses and workers over foreign corporation, and dramatically increases the rate of economic growth and job creation.
Brings American jobs back to America and generates employment opportunities for the hundreds of thousands of chronically unemployed.
Repeals the 16th Amendment and direct taxation through companion legislation.
Take action and tell your U.S. Representative and Senators to co-sponsor the Fair Tax Act of 2017. Add your name in the fields below to proceed to send your no-cost letters.
Be a part of the FAIRtax movement and help make make April 15 just another spring day. Visit FAIRtax.org.
Public Comments
Nov 20th, 2017
Matthew O. from Middletown, NJ writes:
I hope I see this pass one day soon, It's high time it gets pushed through!!!
Nov 19th, 2017
Calvin G. from Dallas, GA writes:
You know this is the right thing to do. GET IT DONE!
Nov 19th, 2017
David E. from Jacksonville, FL writes:
Fair tax " everyone benefits
Nov 18th, 2017
Juan B. from Ossining, NY signed.
Nov 16th, 2017
John M. from Syracuse, UT signed.
Nov 15th, 2017
Someone from Gainesville, FL writes:
Please pass the Fair Tax. The current system is fraught with fraud, too complex, and a punishment to those who must fill out all the forms and keep track of receipts. Impossible to file without a computer program. It works, the state of Florida essentially functions as a Fair Tax country (we do not pay income tax).
Nov 10th, 2017
Richard M. from Phoenix, AZ writes:
Changing brackets and deductions is tinkering. We need reform. The FAIR tax is reform.
Nov 10th, 2017
DJ J. from Ridgeville, SC writes:
Nov 9th, 2017
Chuck S. from Raynham, MA writes:
Stop taxing productivity! A national sales tax makes EVERYONE pay their share, fully funds Medicare and Social Security, and ELIMINATES the IRS!
Nov 9th, 2017
Joseph K. from Lake Bluff, IL signed.
Nov 9th, 2017
Erica S. from Senoia, GA writes:
The FairTax makes so much sense and it was created so that EVERYONE pays into it. It truly is the only fair tax.
Nov 8th, 2017
Robert D. from Alger, MI writes:
FairTax will move the growth of the GDP north of 10% for years. The safety nets will empty and tax revenue explode, causing a balanced budget and a continuous cut in taxation. Please tell the PC Police to cease and desist and get this passed.
Nov 8th, 2017
Someone from Sidney, MT writes:
This is a much better plan than the current proposal which leaves the tax code wide open to later changes back to the mess we're in. This will bring lasting and effective change and is truly fair! House and Senate members - vote on these already created bills, we really could be done by Christmas!
Nov 8th, 2017
Adam S. from Tullahoma, TN signed.
Nov 8th, 2017
Adam S. from Tullahoma, TN signed.
Nov 8th, 2017
Adam S. from Tullahoma, TN signed.
Nov 8th, 2017
Adam S. from Tullahoma, TN signed.
Nov 8th, 2017
Russell H. from Gretna, NE writes:
This is the true reform we should have.
Nov 7th, 2017
Someone from San Ramon, CA writes:
The current debate about the Trump Plan highlights the fact that a tax based on income is not viable.Be bold and switch to the Fair Tax.
Nov 6th, 2017
Robert L. from Sycamore, IL writes:
Become a fair tax co - sponsor or lose my vote. Also please stop prosecuting illegal wars and you will be able to stop running a deficit. Then congress can start investing in the country and people you are suppose to represent. Today public service = Self Service.
Nov 6th, 2017
Someone from Greenwood, IN writes:
Instead of the convoluted dance of the current tax reform bill, support the Fair Tax Act of 2017, and make a meaningful change to the tax codes. Even as a small business operator, who will be burdened with some of the resultant changes, it will be less income-producing time wasted than currently being spent. It will also reduce the double taxation and tax evasion currently on-going. You don't want to know how hard it is to find a childcare provider who understands that they're earning an income that has to be reported to the IRS. I've spent MONTHS trying to find someone to reasonably and legally care for my child. And, in doing so, the income will be taxed twice: once on my side, and again on the provider's side. I'm actually going to pay more in taxes and less in childcare to comply with the legal process than I would be if I just looked the other way. How is that in the least bit fair to anyone attempting to be law abiding? It's a double loss. The Fair Tax proposal is the most straight forward and fair method of taxation available, and has the added benefit of drastically decreasing the size of a federal agency which has been used by previous administrations as a politicized weapon against conservative groups, has been hacked repeatedly, and barely takes in enough funds to cover its own operating costs. I hope you will review the Fair Tax Act of 2017, and become a co-sponsor if it and any further iteration thereof, and champion _real_ tax reform.
Nov 5th, 2017
Saralyn B. from Lake City, FL writes:
As a taxpayer and citizen I am requesting my US Representatives and Senators for the great state of Florida to consider the Fair Tax system for the USA !!
Nov 5th, 2017
Tammy T. from Flower Mound, TX signed.
Nov 5th, 2017
Rob T. from Flower Mound, TX signed.
Nov 5th, 2017
Rick H. from Maiden, NC signed.
Nov 5th, 2017
Lisa F. from Jacksonville, FL writes:
The #FairTax is a much needed brilliance. Please join in and support a real idea.
Nov 4th, 2017
Larry H. from Prestonsburg, KY signed.
Nov 4th, 2017
Larry H. from Prestonsburg, KY signed.
Nov 4th, 2017
Larry H. from Prestonsburg, KY signed.
Nov 4th, 2017
Larry H. from Prestonsburg, KY signed.
Nov 4th, 2017
Kelley R. from Rogers, AR writes:
I have just reviewed the 2017 GOP tax plan and find it in NO way preferable or superior the FairTax (HR25 & SB18). I heartily urge my Representative Steve Womack the other Representatives of Arkansas Bruce Westerman, French Hill, Rick Crawford and Arkansas's Senators John Boozman and Tom Cotton to Support a Tax plan which will bring jobs back to America and significantly boost our economy.
Nov 4th, 2017
Philip E. from Chula Vista, CA writes:
With this current administration this is a true tax break for Americans and business. Please approve this instead of the Republican plan which just makes the wealthy more wealthy.
Nov 3rd, 2017
David L. from Delano, TN writes:
Eliminating the IRS will save billions of tax dollars. And save taxpayers time and money wasted on filling. Stress reduction with savings.
Nov 3rd, 2017
Stephen S. from Atlanta, GA writes:
Please consider this instead of the currently proposed tax bill. We need real change, not tweaks to the current system.
Nov 3rd, 2017
Ron M. from Jacksonville Beach, FL writes:
The FairTax would be the catalyst to generate a revolving wheel of revenue for the US Treasury and a continuous stimulus for the economy. The FairTax would give individuals the the freedom to pay into the FairTax as we spend money and credit accessible to us. The FairTax would remove all the burdens, waste, fraud, stress, debt, questions of the current tax systems. I would say the cost referencing the prior sentence is well over a half trillion dollars and that is for just a year's worth of savings. I just see so many benefits from replacing the current Income Tax system with the FairTax.
Nov 3rd, 2017
Jeff F. from Newport, AR writes:
Make America great again by passing the FairTax!
Nov 3rd, 2017
Someone from Ocala, FL writes:
If you can't understand how the current tax system is broken, then it is patently clear you are completely out of touch with the constituents you claim to represent. You have already highjacked the new plan with cries of "Oh!!! The 1%, the 1%!! Honestly, if that's all you morons can focus on, you aren't seeing the forest for the trees. In your hatred of the 1% (oh which most of you Congressional people are members) you continually screw John Q Public Instead, why not put your efforts and votes behind something that would really stimulate this economy and country. Vote for the Fairtax because frankly, I getting awfully tired of putting $5.00 in my pocket but when I go to pay for a damn cup of coffee, Uncle Sam has already had his hand in there and taken the majority of that $5.00 bill. Do something right, for Pete's sake, for the people of this country. Pass the Fairtax.