Tell Congress: NO AGENDA 21!
Save the United States of America. Reject the United Nations initiative known as Agenda 21, which seeks to eliminate property rights.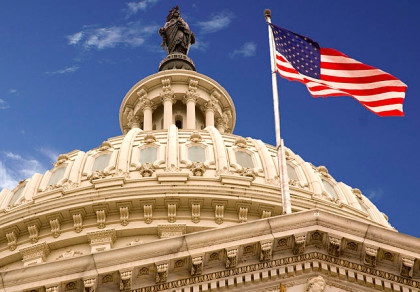 Right now, forces are working to eradicate the United States Constitution and give regulatory and political power to the United Nations and their vision for a global, one-world government.

This is not a conspiracy that MAY happen ... it is in place as you read this.

AGENDA 21 is a vast United Nations initiative that may already have been implemented in your town.

In the interest of "saving" the Earth and creating a "sustainable" future, Agenda 21 will dictate:
What kind of car you can and cannot drive;
Where and when you can travel;
Where you can live;
What kind of property you can own, if you are allowed to own property;
What size family, if any, you can have
The American Policy Center reports that Agenda 21 means that: "every societal decision be based on environmental impact, focusing on three components; global land use, global education, and global population control and reduction."
It's true, global warming environmentalism has reached a new level of hysteria. Despite countless arguments against it, the issue is not going away, and its backers are more rabid than ever.

Agenda 21 seeks to control how Americans live their lives, presumably in an effort to "save the planet" and "sustain" life on Earth. How did this happen? Slowly, and in relative quiet, so you wouldn't figure out what was happening and try to stop it!

In June, 1992, more than 178 governments - including the United States of America - adopted the Rio Declaration on Environment and Development, and the Statement of Principles for the Sustainable Management of Forests at a United Nations conference in Rio de Janeiro, Brazil.

These were not just typical "go-green" initiatives that would eventually end up being fought through legislation in Congress.

It was the beginning of the systematic destruction of freedom for every American citizen.

Protect the sovereignty and freedom of all Americans. Sign our petition and send messages to Congress to STOP AGENDA 21 now!

After the 1992 conference, President Clinton established a Presidential Council on Sustainable Development in 1995, by executive order. That means you and I did not get an opportunity to reject or support the idea.

This was done by executive order for good reason. J. Gary Lawrence, Council advisor to President Clinton, said:
"Participating in a UN advocated planning process would very likely bring out many of the conspiracy-fixated groups and individuals in our society. ... This segment of our society who fear "one-world government" and a UN invasion of the United States...would actively work to defeat [Agenda 21]. So we call our process something else, such as comprehensive planning, growth management or smart growth."
One of the planners has said Agenda 21,


"...proposes an array of actions which are intended to be implemented by every person on earth. ... [I]t calls for specific changes in the activities of all people. ... Effective execution of Agenda 21 will require a profound reorientation of all humans, unlike anything the world has ever experienced."
It sounds like a post-apocalyptic horror film, but this is reality that is unfolding before our very eyes.

The United Nations is no friend to our Constitution and our freedom. Their viewpoint is completely anathema to the hard-fought values and principles this country was built upon -- liberty, freedom, invididualism.

YOU ARE THE ENEMY, according to the United Nations. Your greedy freedom, democracy, and right to wealth must be stopped!

You may wonder how a global body could overrule your rights as an American...they believe they can do this because they do not respect the rights you hold.

For example, one of Agenda 21's premises is that private property is "a social injustice since not everyone can build wealth from it." That is why they have no problem placing property restrictions on residents.

The U.N. Conference on Human Settlements agrees, stating:


"Private land ownership is also a principal instrument of accumulation and concentration of wealth and therefore contributes to social injustice...The provision of decent dwellings and healthy conditions for the people can only be achieved if land is used in the interest of society as a whole."
We must call on Congress right now to protect our U.S. Constitution, oppose any and all legislation that comes before Congress attempting to impose Agenda 21, and demand the educatation of local governments on the dangers of Agenda 21 programs. This cannot wait a day longer - the United Nations is actively working to gain control over the United States and its political system. SIGN THE PETITION BELOW AND SEND MESSAGES TO CONGRESS!
Public Comments
Aug 20th, 2013
Raymond W. from Oakley, CA signed.
Aug 20th, 2013
Fay C. from New Orleans, LA writes:
No Small Arms Treaty either!
Aug 20th, 2013
Omond B. from Ligonier, PA writes:
I oppose Agenda 21 AND the UN Small arms treaty. I bogus organization as far as I'm concerned.
Aug 20th, 2013
Someone from Midlothian, VA signed.
Aug 19th, 2013
donald t. from Oakhurst, CA signed.
Aug 19th, 2013
Someone from Chester, VA writes:
Aug 19th, 2013
Kayla W. from Chester, VA signed.
Aug 19th, 2013
Kayla W. from Chester, VA writes:
Aug 19th, 2013
Richard W. from Russell Springs, KY signed.
Aug 19th, 2013
Joanne L. from Daytona Beach, FL signed.
Aug 19th, 2013
Mr. & Mrs James W. B. from Nashville, NC writes:
Aug 19th, 2013
Someone from Birmingham, AL signed.
Aug 19th, 2013
Douglas L. from Perdido, AL writes:
No U.N. right over our counrty.Our Founding Fathers were smarter than all these DoDo`s-Oppose everything coming out of the UN. Especially this & the Small Arms treaty!!!
Aug 19th, 2013
Douglas K. from Reno, NV signed.
Aug 18th, 2013
Someone from Hastings, MN signed.
Aug 18th, 2013
Ruth W. from Eldora, IA writes:
I am e-mailing to urge you to oppose Agenda 21 whenever and wherever it comes up. You MUST oppose the U.N. Arms Treaty. The Senate MUST vote down this Treaty. Thanks for listening to me.
Aug 18th, 2013
James M. from Marina, CA signed.
Aug 18th, 2013
kaleb n. from Newport Beach, CA signed.
Aug 18th, 2013
Martin F. from Zimmerman, MN signed.
Aug 18th, 2013
Robert B. from Nuevo, CA signed.
Aug 18th, 2013
Edward H. from Kansas City, MO writes:
Aug 18th, 2013
Cynthia H. from Thorntown, IN signed.
Aug 18th, 2013
Someone from Cumming, GA signed.
Aug 18th, 2013
Creighton B. from Jackson, MI signed.
Aug 18th, 2013
jacquie s. from Granite Falls, NC writes:
If you can't see these abhorrent changes taking place, you're blind.
Aug 18th, 2013
Janet O. from Cottage Grove, WI writes:
This is ginormous Agenda 21 covers every aspect of our life and destroys the US Sovereignty, not to mention is anti-Constitutional and Declaration of Independence!
Aug 18th, 2013
Raymond J. from Torrington, CT signed.
Aug 18th, 2013
B J H. from Laguna Hills, CA signed.
Aug 18th, 2013
Armand C. from Salt Lake City, UT signed.
Aug 18th, 2013
JoAnn C. from Morrill, ME writes:
let's send the dictator and his allies packing, let's take back America, NOW OR THIS COUNTRY WILL NO LONGER BE THE LAND OF THE FREE, COME ON PEOPLE, THERE ARE MORE OF US THAN THERE ARE OF THEM, LET'S SEND THE RATS BACK WHERE THEY CAME FROM !!!!!!!!!!!!!!!!!!
Aug 18th, 2013
Jane B. from Roseburg, OR signed.
Aug 18th, 2013
Someone from Mathiston, MS signed.
Aug 18th, 2013
David M. from Coppell, TX signed.
Aug 18th, 2013
Donald D. from Lenoir, NC signed.
Aug 18th, 2013
Someone from Levittown, PA signed.
Aug 18th, 2013
Dan H. from Capac, MI signed.
Aug 18th, 2013
Ann G. from Birmingham, AL signed.
Aug 18th, 2013
john b. from Lakeland, FL signed.
Aug 18th, 2013
Gene S. from Lake Havasu City, AZ signed.
Aug 18th, 2013
Edna H. from Salem, IN signed.