Tell Congress: NO AGENDA 21!
Save the United States of America. Reject the United Nations initiative known as Agenda 21, which seeks to eliminate property rights.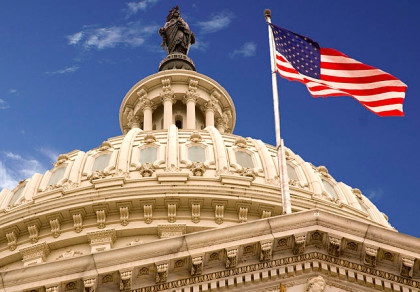 Right now, forces are working to eradicate the United States Constitution and give regulatory and political power to the United Nations and their vision for a global, one-world government.

This is not a conspiracy that MAY happen ... it is in place as you read this.

AGENDA 21 is a vast United Nations initiative that may already have been implemented in your town.

In the interest of "saving" the Earth and creating a "sustainable" future, Agenda 21 will dictate:
What kind of car you can and cannot drive;
Where and when you can travel;
Where you can live;
What kind of property you can own, if you are allowed to own property;
What size family, if any, you can have
The American Policy Center reports that Agenda 21 means that: "every societal decision be based on environmental impact, focusing on three components; global land use, global education, and global population control and reduction."
It's true, global warming environmentalism has reached a new level of hysteria. Despite countless arguments against it, the issue is not going away, and its backers are more rabid than ever.

Agenda 21 seeks to control how Americans live their lives, presumably in an effort to "save the planet" and "sustain" life on Earth. How did this happen? Slowly, and in relative quiet, so you wouldn't figure out what was happening and try to stop it!

In June, 1992, more than 178 governments - including the United States of America - adopted the Rio Declaration on Environment and Development, and the Statement of Principles for the Sustainable Management of Forests at a United Nations conference in Rio de Janeiro, Brazil.

These were not just typical "go-green" initiatives that would eventually end up being fought through legislation in Congress.

It was the beginning of the systematic destruction of freedom for every American citizen.

Protect the sovereignty and freedom of all Americans. Sign our petition and send messages to Congress to STOP AGENDA 21 now!

After the 1992 conference, President Clinton established a Presidential Council on Sustainable Development in 1995, by executive order. That means you and I did not get an opportunity to reject or support the idea.

This was done by executive order for good reason. J. Gary Lawrence, Council advisor to President Clinton, said:
"Participating in a UN advocated planning process would very likely bring out many of the conspiracy-fixated groups and individuals in our society. ... This segment of our society who fear "one-world government" and a UN invasion of the United States...would actively work to defeat [Agenda 21]. So we call our process something else, such as comprehensive planning, growth management or smart growth."
One of the planners has said Agenda 21,


"...proposes an array of actions which are intended to be implemented by every person on earth. ... [I]t calls for specific changes in the activities of all people. ... Effective execution of Agenda 21 will require a profound reorientation of all humans, unlike anything the world has ever experienced."
It sounds like a post-apocalyptic horror film, but this is reality that is unfolding before our very eyes.

The United Nations is no friend to our Constitution and our freedom. Their viewpoint is completely anathema to the hard-fought values and principles this country was built upon -- liberty, freedom, invididualism.

YOU ARE THE ENEMY, according to the United Nations. Your greedy freedom, democracy, and right to wealth must be stopped!

You may wonder how a global body could overrule your rights as an American...they believe they can do this because they do not respect the rights you hold.

For example, one of Agenda 21's premises is that private property is "a social injustice since not everyone can build wealth from it." That is why they have no problem placing property restrictions on residents.

The U.N. Conference on Human Settlements agrees, stating:


"Private land ownership is also a principal instrument of accumulation and concentration of wealth and therefore contributes to social injustice...The provision of decent dwellings and healthy conditions for the people can only be achieved if land is used in the interest of society as a whole."
We must call on Congress right now to protect our U.S. Constitution, oppose any and all legislation that comes before Congress attempting to impose Agenda 21, and demand the educatation of local governments on the dangers of Agenda 21 programs. This cannot wait a day longer - the United Nations is actively working to gain control over the United States and its political system. SIGN THE PETITION BELOW AND SEND MESSAGES TO CONGRESS!
Public Comments
Jun 3rd, 2013
Sonja B. from Collins, MO writes:
MORE FREEDOMS BEING TAKEN AWAY BY OUR GOVERNMENT FROM U.S.A. LEGAL CITIZENS! VOTE AGAINST AGENDA 21, AND ANY AGENDA THAT TAKES AWAY OUR NATION BY THE UN. TIME FOR THE U.S.A. TO LEAVE THE U.N. WE THE (LEGAL) USA CITIZENS DO NOT WANT OUR COUNTRY TO BE A MEMBER OF THE UN!
Jun 3rd, 2013
Robert L. from Old Hickory, TN signed.
Jun 3rd, 2013
Paul & Janice S. from Slidell, LA signed.
Jun 3rd, 2013
Someone from Mascotte, FL signed.
Jun 3rd, 2013
Don D. from Bayonne, NJ writes:
I say no to Obama, Agenda 21, and everything the left tries to impose on America.
Jun 3rd, 2013
Don D. from Bayonne, NJ writes:
I say no to Obama, Adgenda 21, and everything the left tries to impose on America.
Jun 3rd, 2013
Ken M. from Livermore, CA signed.
Jun 3rd, 2013
Albert V. from Gainesville, GA signed.
Jun 3rd, 2013
Someone from Olney, MD writes:
American people have been tricked & deceived by Agenda 21 & its promoters about the ultimate goal of Agenda 21. But we the people are becoming aware; hope it is not too late to stop it!!
Jun 3rd, 2013
Allen H. from Gridley, CA signed.
Jun 3rd, 2013
Someone from Alcoa, TN signed.
Jun 3rd, 2013
Someone from Austin, TX signed.
Jun 3rd, 2013
Someone from San Bernardino, CA signed.
Jun 3rd, 2013
Someone from Harvey, LA signed.
Jun 3rd, 2013
Deborah P. from Seattle, WA signed.
Jun 3rd, 2013
Someone from Evansville, IN writes:
It appears that the United Nations Agenda 21 is Obama's blueprint for his one world order. The objectives of Agenda 21 are being checked off one-by-one. The first stimulus package, electronic health records, ObamaCare, energy policies, gun-control, assaults on the Constitution, IRS targeting of groups, IRS involvement in health care, Common Core,redistribution of wealth- all appear interconnected and part of the larger plan in the name of social justice and control. For example, it's now predicted that Medicare will run out of money by 2026. Obama is now willing to deal on entitlements, to adjust the CPI to lower the income of seniors, and to means-test retirees for their Medicare. He fails to mention that over $700 Billion dollars was taken from Medicare by ObamaCare, and that his payroll tax cuts took millions from Social Security. Attempts to whittle away at the Constitution are on-going. Violations of religious freedom and freedom of the press, the right to be secure in one's house and effects, and the loss of privacy and data mining are threatening our freedoms. A federal shield law has been suggested by Obama, and he's asked Senator Schumer to revive a previous shield bill that didn't pass. Schumer says he'll ask the Gang of Eight to support it so that both classified information and journalists' freedoms are considered. Another bill to push down our throats under the guise of bi-partisanship! The Federal Shield Law will mean going to an intermediary or to a judge to exercise one's freedom for the press. It's easy to imagine that anything could be denied simply by citing it as "classified information."
Jun 3rd, 2013
Cary R. from Wanatah, IN signed.
Jun 3rd, 2013
Barbara K. from Rio Rancho, NM writes:
This is right up emperor obama's alley, probably supported by the elitist like Bill Gates, Soros, Kissinger. you probably can name a few others. They think they are better then us. So they have monsanto put poison in the seeds that make us sick . Have you noticed others countries are refusing our seeds to grow. Check it out.???
Jun 2nd, 2013
Leila P. from Milwaukee, WI signed.
Jun 2nd, 2013
Ed F. from Wooster, OH writes:
Dont go down without a fight
Jun 2nd, 2013
Linda F. from Cadiz, OH signed.
Jun 2nd, 2013
Someone from Lakewood, CA writes:
it's the time of the signs, no matter how dark the days become, keep your eyes fixed on Jesus, always. time is looking to be running out. God bless.
Jun 2nd, 2013
Someone from San Jose, CA signed.
Jun 2nd, 2013
WIlliam S. from Pearl River, NY signed.
Jun 2nd, 2013
Cherie M. from Groveland, FL signed.
Jun 2nd, 2013
Someone from Kemmerer, WY signed.
Jun 2nd, 2013
Someone from Port Charlotte, FL writes:
GLAD to see people are FINALLY becoming AWARE of what has been going on in our Country since (at least) the early 90's. (I JUST PRAY IT IS NOT TOO LATE) The UN (Communists) are involved in everything...EPA, Energy, Education, Agriculture, Bureau of Land Mgmt, ETC......THIS HAS TO STOP NOW.....
Jun 2nd, 2013
Gail B. from Odessa, FL writes:
The UN has infiltrated OUR country since the early 90's and maybe before.....Check out our Nat'l Parks, "Smart Meters" Conservation Land Preserves.....just to name a few.........THIS Administration has opened the Gates Wide OPEN...THIS IS VERY DANGEROUS.
Jun 2nd, 2013
GERALD S. from Cooperstown, NY signed.
Jun 2nd, 2013
Ronald S. from Warminster, PA signed.
Jun 2nd, 2013
Someone from Nixa, MO signed.
Jun 2nd, 2013
Darlene C. from Grass Valley, CA signed.
Jun 2nd, 2013
Ronald M. from Sebastian, FL writes:
I do not trust big government for good reason. We have been suffering the loss of our freedoms for quite some time. Just remember what Thomas Jefferson said. "The government that governs least governs best.
Jun 2nd, 2013
Bruce A. from Crestview, FL signed.
Jun 2nd, 2013
bob b. from Nashua, NH signed.
Jun 2nd, 2013
Anthony W. from Oceanside, CA writes:
The UN is totally corrupt! We live under our constitution, not any UN mandates. The UN can go to hell and take its corrupt mandates with it!
Jun 2nd, 2013
Betty P. from Florahome, FL writes:
Jun 2nd, 2013
Robert N. from Oakland, CA signed.
Jun 2nd, 2013
B J H. from Laguna Hills, CA signed.
Jun 2nd, 2013
Raymond V. from Savannah, GA signed.