Tell Congress: Honor and Uphold the Separated Powers of Government
No Pharaoh, No Emperor, No King -- We The People!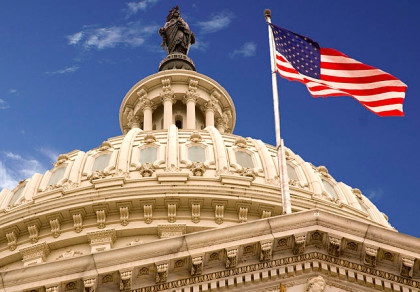 "A lady asked Dr. Franklin Well Doctor what have we got a republic or a monarchy. A republic replied the Doctor if you can keep it." - Dr. James McHenry, Notes on the Constitutional Convention
The United States government has three separate branches, meant to challenge one another and keep checks and balances on each, so that no branch assumes more power over the others.
America is not a monarchy; in fact, that is exactly what we were escaping when our forefathers so bravely fought England and built this great nation.
Mr. Obama's dictatorial rule must end. We need to expose his unconstitutional actions - and de-fund the results of these actions, if necessary - so we can restore our constitutional, representative republic to what it was meant to be.
Public Comments
Feb 22nd, 2012
Bobby R. from Sour Lake, TX signed.
Feb 22nd, 2012
Robert H H. from Harrisburg, PA signed.
Feb 21st, 2012
Suzi R. from Fort Lauderdale, FL writes:
We are self employed, making much less, BUT we are literally paying thousands more in taxes! Guess we are helping this deficit........ and the illegals! And being self employed, we cannot even collect un-employment!
Feb 21st, 2012
Roberta v. from Fort Collins, CO signed.
Feb 21st, 2012
robert l. from Nashville, GA signed.
Feb 21st, 2012
Suzanne S. from Blue Island, IL writes:
OBAMA IS NOT OUR PRESIDENT....HE IS THE USURPER.....HE MUST BE HELD ACCOUNTABLE FOR ALL OF HIS CRIMES AGAINST OUR CONSTITUTION...WHAT IN THE WORLD IS WRONG WITH THE MEMBERS OF THE HOUSE AND SENATE WHO HAVE NEGATED THEIR OATHS OF OFFICE TO PROTECT AND DEFEND OUR CONSTITUTION.....AS FAR AS I AM CONCERNED THEY ARE ALL TRAITORS....THEY HAVE BETRAYED OUR COUNTRY, OUR CONSTITUTION AND ALL OF THEIR FELLOW AMERICANS.....THEY MUST RIGHT THEIR WRONGS IF THEY ARE TO REMAIN WITHIN THEIR POSITIONS. AMERICANS MUST STAND UP FOR OUR COUNTRY AND PROTEST OPENLY AND ALL OF THE CANDIDATES FOR THE PRESIDENCY MUST DECLARE THAT OBAMA IS THE USURPER AND HE MUST BE REMOVE IMMEDIATELY WITH ALL OF HIS APPOINTEES AND PELOSI AND BIDEN AND REID WHO MANIPULATED THIS CONSPIRACY BE HELD ACCOUNTABLE....WHEN REMOVED ALL LAWS AND MANDATES AND EXECUTIVE ORDERS WOLD BE NULL AND VOID, AS OBAMA'S POSITION AS HOLDING THE OFFICE OF THE PRESIDENCY ILLEGALLY.....TIME IS OF THE ESSENCE....THE ELECTED OFFICIALS WHO RE REPRESENTING OUR COUNTRY, AMERICAN CITIZENS AND LEGAL ALIENS AND OUR CONSTITUTION MUST DISPLAY THEIR ALLEGIANCE TO OUR AMERICA, IF THEY DO NOT, THEN THEY MUST RESIGN...GO TO WHATEVER COUNTRY THAT THEY HOLD ALLEGIANCE TOO AND LEAVE OUR COUNTRY IN THE HANDS OF THE TRUE AMERICAN PATRIOTS......STAND UP FOR OUR AMERICA.....WILL GOD HAVE MERCY ON THEIR SOULS IF THEY CONTINUE TO BETRAY OUR GREAT NATION. "IN GOD WE TRUST."
Feb 21st, 2012
Christine S. from Temple, TX writes:
As a government employee, I have not seen a cost of living increase in my paycheck for the last two years. This is my part in helping the U.S. government reduce the deficit. As a citizen, I do not have a problem doing what I can to reduce our deficit, even though it has caused me a bit of a hardship. The last two years I have seen an increase at the gas pumps and at the grocery store, while my paycheck stayed stagnate. I am proud to be an American, and have given 25 years to the United States Army, both as a soldier and a civilian employee, but I am sickened by the free handouts provided by our current administration, and the additional cost I will endure to pay for these freebies. Again, I have been on my current salary for the past two years, and I do not feel I need to be burdened with another expense. I do not mind assisting those who need it, but to facilitate laziness is ludicrous. I firmly believe that freebies promote the lack of desire to be productive and are counterproductive to those who are employed and doing their part!
Feb 21st, 2012
David G. from Black Canyon City, AZ writes:
We do not need any more of our rights taken from us. We need the Gov. out of our lives.
Feb 21st, 2012
GEORGE Z. from Gilbertsville, PA writes:
At what point do the freebies just become ridiculous. Amazing how politicians spend our money with no requard. The more I find out the more disgusted I become.
Feb 20th, 2012
James W. from Ulysses, KS signed.
Feb 20th, 2012
Someone from New Orleans, LA signed.
Feb 20th, 2012
Rhonda Y. from Pacific Beach, WA signed.
Feb 20th, 2012
Barbara T. from Pasadena, CA signed.
Feb 20th, 2012
alfred & theresa j. from Middleboro, MA signed.
Feb 20th, 2012
Patricia D. from Colorado Springs, CO signed.
Feb 20th, 2012
John P. from Milwaukee, WI signed.
Feb 20th, 2012
Kirby J. from Lebanon, IN signed.
Feb 19th, 2012
Gene B. from Mobile, AL signed.
Feb 19th, 2012
joann s. from Fountain Valley, CA signed.
Feb 18th, 2012
Someone from Chicago, IL signed.
Feb 18th, 2012
Someone from Bonners Ferry, ID signed.
Feb 18th, 2012
Dom R. from Eau Claire, WI signed.
Feb 18th, 2012
Someone from Mccloud, CA signed.
Feb 18th, 2012
James H. from Alexandria, VA signed.
Feb 17th, 2012
Diane K. from Estes Park, CO writes:
Power is a deadly cancer when in the hands of politicians. That is why seperation of powers is so necessary.
Feb 17th, 2012
Someone from Patagonia, AZ writes:
you people were elected to stop stop obama, from stomping on the consitition and ripping it apart do your job, or you will be replaced, its in your hands !
Feb 17th, 2012
Richard E. from Waukesha, WI writes:
This is not a Nazi, or Communist country.We are free, or supposed to be.
Feb 17th, 2012
Rebecca S. from Ramah, CO signed.
Feb 17th, 2012
Craig M. from Reading, PA signed.
Feb 17th, 2012
Jackie G. from Glenmora, LA writes:
Those who have sworn to uphold the Constitution need to do jus that. America wasn't founded to become the dictatorship that it is fast becoming.
Feb 17th, 2012
Douglass R. from Dearborn, MI signed.
Feb 17th, 2012
matt o. from Hauppauge, NY writes:
If you do not help change this, there will be no need for the Legislative Branch
Feb 16th, 2012
Ruth R. from Hustonville, KY signed.
Feb 16th, 2012
Lisa D. from Indianapolis, IN writes:
Our Checks and Balances are there to keep ELECTED PEOPLE in ANY office HONEST!!!!!!! This is NOT to be questioned or any branch do as they feel or please. It is to be honored, just as the positions you hold for office. YOU do the WILL of the PEOPLE, remember? These unhonorable presidents and Congress have done harm to our country and its citizens it swears to protect and now is the time to do RIGHT. RIGHT NOW!
Feb 16th, 2012
Betty G. from Brewster, OH signed.
Feb 16th, 2012
francisca g. from Deering, ND writes:
Obama needs to be knocked off that high horse of his!!!
Feb 16th, 2012
John M. from Crossville, TN writes:
You took an oath to protect this country from all enemies, both external & INTERNAL!! Do your job, or resign & let somebody else who will.
Feb 16th, 2012
Someone from Carmichael, CA signed.
Feb 16th, 2012
Brad M. from Hazel Green, WI signed.
Feb 16th, 2012
James H. from Alexandria, VA signed.