Tell Congress: End DHS Police State Measures
The Department of Homeland Security and the Transportation Security Administration are targeting innocent American citizens and destroying our freedom!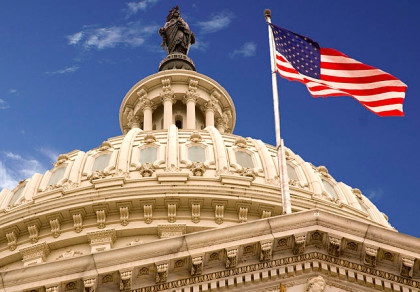 Vice President Joe Biden describes Conservatives as "acting like terrorists," and clearly the Department of Homeland Security (DHS) agrees, because their recently released terrorist-watch video "See Something, Say Something" has revealed a new terror threat: Americans!

The 10-minute video is filled with scenarios in which Americans are the real terror threats, and then advises Americans to not report on the suspicious activities of foreigners and those who speak a foreign language, but rather, to report the odd behaviors of American citizens.
The DHS video also displays newspaper clippings of Americans who have committed acts of terror, such as Ted Kaczynski the Unabomber, and Timothy McVey, one of the men involved in the bombing of the Murrah Federal Building in Oklahoma City. Yet, the video fails to show pictures of the 19 9/11 hijackers, or members of al-Qaeda, Hamas and Hezbollah, or members of other foreign terrorist organizations.

Is this simply a methodical effort by the DHS to be politically correct? Many say "no," because the DHS has gone out of its way to cast a shadow on middle-America by creating scenarios in which every suspected terrorist is an American citizen.

Unfortunately, these profiling tactics aren't new: according to documents written by the Missouri Information Analysis Center (MIAC) in 2009, if you display the Gadsden flag, or consider yourself to be Libertarian or a supporter of the liberty movement, then you just might be the biggest threat to our national security.

This is a prime example of an imposing police-state, where the government tasks citizens with the job of spying on their neighbors, instead of using the government's resources to protect patriotic Americans from the real terror threats.
TSA shakedown

Young children and grandmothers also seem to be on the Transportation and Security Administration's (TSA) radar as suspected terrorists.

A Tennessee woman was arrested by police at the Nashville International Airport for refusing to go through the TSA's airport screening machine, and for refusing to allow her daughter to be patted-down by a TSA agent.

According to a police report, the mother told TSA agents that she didn't want her daughter to be "touched inappropriately" or have her "crotch grabbed." And since she refused to allow the screening, she was arrested on a charge of disorderly conduct.

The mother was also prevented from taking a video of the incident on her mobile phone.

How much further will you allow the government to push you around before you stand up and tell every member of Congress to protect your Fourth Amendment rights?
Sign the petition and send letters to your lawmakers and demand they END the police-state measures -- even dismantle the DHS and TSA and let the free market take care of those security needs, rather than the ever-growing federal government!

Public Comments
Aug 7th, 2011
Someone from Herndon, VA writes:
We must prevail, and get these sickies our of offfce or desolve their offices. God Bless and keep America free.
Aug 7th, 2011
Edward B. from Athol, NY signed.
Aug 7th, 2011
Someone from West Hollywood, CA signed.
Aug 7th, 2011
Ray T. from Vero Beach, FL signed.
Aug 7th, 2011
Richard M. from Middle Island, NY signed.
Aug 7th, 2011
Someone from Santa Ynez, CA signed.
Aug 7th, 2011
Jim B. from Mesa, AZ signed.
Aug 7th, 2011
Someone from New Haven, CT writes:
It is time for our Leaders to grow up and stop encouraging sexual handling of passengers going onto airplanes. Get a stronger security measure for people traveling to this country. Why are they coming here? What is their purpose? etc. And keep tabs on the suspicious ones or better still if the look suspicious send them back from whence they came
Aug 7th, 2011
Someone from Omaha, NE writes:
Have you forgoten the Bill of Rights? I know the constitution is no longer taught in schools, but what is happening in this country is complete tryanny. In fact, even the king of England during the Revolutionary war wouldn't have ordered people to publicly molest children in the name of "homeland security". It leads us all to believe that you are perverts who would rather sexually abuse innocent children than take care of the real problem. No caring parent wants their young children touched like that. America's families are not the problem.
Aug 7th, 2011
Lois W. from Elk Grove, CA writes:
No longer the home of the free or the brave.
Aug 7th, 2011
Robert S. from Port Washington, NY writes:
This just prooves once again that political correctness is alive and well. It is a sorry day indeed when political correctness trumps the first Amendment.
Aug 7th, 2011
gary d. from Huntsville, TN signed.
Aug 7th, 2011
gary d. from Huntsville, TN signed.
Aug 7th, 2011
Ruth C. from Hillsboro, IL signed.
Aug 7th, 2011
walter m. from Alameda, CA writes:
Aug 7th, 2011
Fred C. from Clearwater Beach, FL writes:
I ama Tea Party Member and watch everything and vote conservatively.. My Family and friends watch ......and Vote. This e-mail is sent to 52 friends with 1 click. We all watch to make sure the USA is protected, our rights, our constitution, and STOP OBAMA, REID AND PELOSI , AND SOROS!!!!!!!!NOW.
Aug 7th, 2011
Jerry M. from East Sparta, OH writes:
Aug 7th, 2011
Benamin A. from Centralia, IL signed.
Aug 7th, 2011
Someone from North East, MD signed.
Aug 7th, 2011
Someone from Bend, OR signed.
Aug 7th, 2011
Pamela B. from Wilmington, NC writes:
They don't want to profile the terrorists, but they are in fact profiling our US citizens as terrorists. They must be guilty of something to want to turn the tables on us innocent citizens and make us terrorists! This is the most rediculous thing I have ever heard of. They protect the terrorists and punish us. So, this is why they won't secure our borders! They are disgusting and they don't belong in office anymore.
Aug 7th, 2011
Jesus Nunezperez N. from Albuquerque, NM signed.
Aug 6th, 2011
Mary B. from Happy Valley, OR signed.
Aug 6th, 2011
Jerry S. from Paducah, KY signed.
Aug 6th, 2011
Wade C. from Livingston, TX writes:
I'm signing this petition because I am fed up with the crap going on in this country just as all of you are, and I will fight the tyranny in this country till the day I die, but it will continue to get worse until Christ finally returns. Our war is with Satan and his minions on earth, and especially in this country right now. If nothing else, at least I can become a martyr for what I believe in. Watch for Christ to return soon, and be ready.
Aug 6th, 2011
Christine H. from Colorado Springs, CO writes:
4th Amendment Rights Need to be Protected by You...
Aug 6th, 2011
Someone from Belfast, ME writes:
This is America and should be guided by the Constitution and nothing else. If they want their own laws they can leave and take their laws with them.
Aug 6th, 2011
MALI E. from Northridge, CA signed.
Aug 6th, 2011
warren s. from Oxon Hill, MD writes:
only a un- only a un America would call true Americans terrorists
Aug 6th, 2011
David N. from Alexandria, VA signed.
Aug 6th, 2011
Ray h. from Justice, IL writes:
DHS telling americans to spy on americans. WHY? Sounds like something out of Communist China or Russia. Does anybody still believe BHO wants the best for the USA. Freedom for all, free to achieve. Be your own boss, that would be true freedom. It is getting scary. They want total control.
Aug 6th, 2011
Joshua W. from Columbus, IN signed.
Aug 6th, 2011
Someone from Portola, CA signed.
Aug 6th, 2011
Peter J. from Inman, KS signed.
Aug 6th, 2011
Someone from Parkersburg, WV signed.
Aug 6th, 2011
Russell B. from Crystal River, FL writes:
Unconstituional and Americans should not accept this. When the gov't fears the people it is LIBERTY,when the people fear the Gov't it is tyranny
Aug 6th, 2011
William H. from Santa Barbara, CA signed.
Aug 6th, 2011
Martha C. from Chatham, NJ signed.
Aug 6th, 2011
Charles B. from Ashland, OH writes:
Straighten up Congress. Wasgington is the WHOLE problem with our country, our economy, our recession, our lack of work, the debt. We in the working world caused none of these problems. You in Congress caused them all and know not how to fix them. Have you ever managed a check book?? This is a good place to start!!
Aug 6th, 2011
Nancy L. from Elwood, IL signed.