Tell Congress: End DHS Police State Measures
The Department of Homeland Security and the Transportation Security Administration are targeting innocent American citizens and destroying our freedom!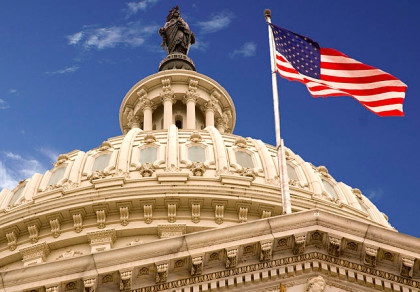 Vice President Joe Biden describes Conservatives as "acting like terrorists," and clearly the Department of Homeland Security (DHS) agrees, because their recently released terrorist-watch video "See Something, Say Something" has revealed a new terror threat: Americans!

The 10-minute video is filled with scenarios in which Americans are the real terror threats, and then advises Americans to not report on the suspicious activities of foreigners and those who speak a foreign language, but rather, to report the odd behaviors of American citizens.
The DHS video also displays newspaper clippings of Americans who have committed acts of terror, such as Ted Kaczynski the Unabomber, and Timothy McVey, one of the men involved in the bombing of the Murrah Federal Building in Oklahoma City. Yet, the video fails to show pictures of the 19 9/11 hijackers, or members of al-Qaeda, Hamas and Hezbollah, or members of other foreign terrorist organizations.

Is this simply a methodical effort by the DHS to be politically correct? Many say "no," because the DHS has gone out of its way to cast a shadow on middle-America by creating scenarios in which every suspected terrorist is an American citizen.

Unfortunately, these profiling tactics aren't new: according to documents written by the Missouri Information Analysis Center (MIAC) in 2009, if you display the Gadsden flag, or consider yourself to be Libertarian or a supporter of the liberty movement, then you just might be the biggest threat to our national security.

This is a prime example of an imposing police-state, where the government tasks citizens with the job of spying on their neighbors, instead of using the government's resources to protect patriotic Americans from the real terror threats.
TSA shakedown

Young children and grandmothers also seem to be on the Transportation and Security Administration's (TSA) radar as suspected terrorists.

A Tennessee woman was arrested by police at the Nashville International Airport for refusing to go through the TSA's airport screening machine, and for refusing to allow her daughter to be patted-down by a TSA agent.

According to a police report, the mother told TSA agents that she didn't want her daughter to be "touched inappropriately" or have her "crotch grabbed." And since she refused to allow the screening, she was arrested on a charge of disorderly conduct.

The mother was also prevented from taking a video of the incident on her mobile phone.

How much further will you allow the government to push you around before you stand up and tell every member of Congress to protect your Fourth Amendment rights?
Sign the petition and send letters to your lawmakers and demand they END the police-state measures -- even dismantle the DHS and TSA and let the free market take care of those security needs, rather than the ever-growing federal government!

Public Comments
Aug 8th, 2011
Someone from Harvard, IL signed.
Aug 8th, 2011
Mildred E. from Carlsbad, CA signed.
Aug 8th, 2011
Lisa S. from Chester, WV writes:
I have stopped traveling all together. Perhaps that is their intent - imprison American's through illegal unconstitutional regulations.
Aug 8th, 2011
Constance K. from Kansas City, MO writes:
The Tea Party is what is saving this country from tyranny in D.C. They are not "terrorists", but patriots. I can't wait until 2012!
Aug 8th, 2011
Randy R P. from Flat Rock, IL signed.
Aug 8th, 2011
BILLY R. from El Cajon, CA signed.
Aug 8th, 2011
Dennis M. from Milton, FL signed.
Aug 8th, 2011
norman p. from Southport, CT signed.
Aug 8th, 2011
Sandy C. from Wahoo, NE writes:
Suspicious activities of any person, of any ethnicity should be reported. It sounds like just those activities which do not reflect the Liberal Democrat party views are suspect and therefore terroristic. Since when can a parent not be allowed to keep a child from a perceived threat? Just like a child molester, the TSA searches and inappropriately "screens" children. Elder abuse comes to mind concerning the elderly woman and her Depends. Funny how it is a crime when commited by anyone other than the TSA, and also a crime to resist such intrusion and/or abuse only when perpetrated by the TSA. Time for the police-state and Big Brother intrusive policies to end!
Aug 8th, 2011
kenneth m. from Georgetown, KY signed.
Aug 8th, 2011
William W. from Terre Haute, IN signed.
Aug 8th, 2011
Sue S. from San Angelo, TX signed.
Aug 8th, 2011
JUNE R. from Scottsdale, AZ signed.
Aug 8th, 2011
Deborah B. from Newcastle, CA signed.
Aug 8th, 2011
Robert K. from Lufkin, TX signed.
Aug 8th, 2011
Roy S. from Avoca, AR signed.
Aug 8th, 2011
Ed C. from Covina, CA signed.
Aug 8th, 2011
DANIEL E. from Wernersville, PA writes:
there may some home-grown terrorists but the proof of them most likely, being being of foreign decent, is obvious. This law is biased and designed to target Americans who may not be in line with the U.S. government system. What will become of freedom of speech???
Aug 8th, 2011
Someone from Sidney, OH signed.
Aug 8th, 2011
Someone from Arlington Heights, IL signed.
Aug 8th, 2011
darrell w. from Herculaneum, MO writes:
People are starting to wake up, thanks to the idiocy of our liberal elect. This is why your vote as an individual American matters, for the sake of our country!
Aug 8th, 2011
Vickie P. from Gallatin, TN signed.
Aug 8th, 2011
Melody P. from Claremore, OK signed.
Aug 8th, 2011
Someone from Lake Forest, IL writes:
You are hired with my tax dollars to protect US citizens not to falsely accuse them because we ARE NOT LIBERALS . Conservative values started this country - Re-read the Declaration of Independence and the US Constitution.
Aug 8th, 2011
Someone from Riverside, CA signed.
Aug 8th, 2011
Someone from Sidney, OH signed.
Aug 8th, 2011
Norman G. from Dunbar, PA writes:
Remember, you're there to "represent" those that put you there! You work for us not your party.
Aug 8th, 2011
Melissa B. from Garland, TX signed.
Aug 7th, 2011
Andrea T. from Wofford Heights, CA writes:
WE ARE NOT THE TERRORISTS
Aug 7th, 2011
judy k. from Lansing, IL signed.
Aug 7th, 2011
Richard M. from Okemos, MI signed.
Aug 7th, 2011
Jim C. from Hiram, GA signed.
Aug 7th, 2011
Chris U. from Clarence, IA signed.
Aug 7th, 2011
STANLEY S. from Cleveland, OH writes:
WHY ARE OUR REPRESENTIVES & SENATORS SELLING AMERICA DOWN THE RIVER?
Aug 7th, 2011
Robert G. from Londonderry, NH signed.
Aug 7th, 2011
Someone from North, VA writes:
I AM WITH THE TEA PARTY ALL THE WAY!!!!!!!!!!!!
Aug 7th, 2011
Someone from North, VA writes:
You need to get a grip on yourself,your power can be taken from you by one vote. I know it is hard to understand while you are walking thru the halls of power. You went up to Washington to work for the ;whoever, you have lost your way and I don't know what is in your heart but GOD does!!!!!!!!!!!
Aug 7th, 2011
William L. from Fond Du Lac, WI writes:
the tsa and dhs have gone to far. oh sure a 6 year old girl/boy is going to commit an act of terrorism. searching any child like that is a crime they are commiting on our children. they are molesting them. i have a trip coming up soon. my grand daughter and i will be flying. let me tell you i catch a tsa person grabbing or rubbing my grand daughter crotch i will find a police officer and make a citizens arrest. since at the time of the crime the officer by law would need to witnesses the crime for that officer to make an arrest. you need to do what you were elected by the people to do. protect our freedoms protect our Constitution and our Bill of Rights.
Aug 7th, 2011
Terrence W. from Simpsonville, KY signed.
Aug 7th, 2011
Terry D. from Scottsville, KY signed.