Tell Congress: End DHS Police State Measures
The Department of Homeland Security and the Transportation Security Administration are targeting innocent American citizens and destroying our freedom!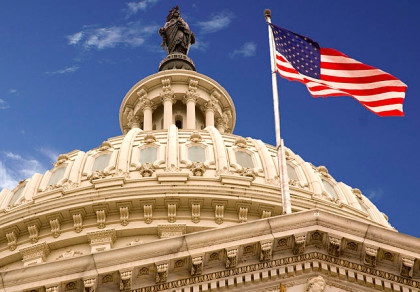 Vice President Joe Biden describes Conservatives as "acting like terrorists," and clearly the Department of Homeland Security (DHS) agrees, because their recently released terrorist-watch video "See Something, Say Something" has revealed a new terror threat: Americans!

The 10-minute video is filled with scenarios in which Americans are the real terror threats, and then advises Americans to not report on the suspicious activities of foreigners and those who speak a foreign language, but rather, to report the odd behaviors of American citizens.
The DHS video also displays newspaper clippings of Americans who have committed acts of terror, such as Ted Kaczynski the Unabomber, and Timothy McVey, one of the men involved in the bombing of the Murrah Federal Building in Oklahoma City. Yet, the video fails to show pictures of the 19 9/11 hijackers, or members of al-Qaeda, Hamas and Hezbollah, or members of other foreign terrorist organizations.

Is this simply a methodical effort by the DHS to be politically correct? Many say "no," because the DHS has gone out of its way to cast a shadow on middle-America by creating scenarios in which every suspected terrorist is an American citizen.

Unfortunately, these profiling tactics aren't new: according to documents written by the Missouri Information Analysis Center (MIAC) in 2009, if you display the Gadsden flag, or consider yourself to be Libertarian or a supporter of the liberty movement, then you just might be the biggest threat to our national security.

This is a prime example of an imposing police-state, where the government tasks citizens with the job of spying on their neighbors, instead of using the government's resources to protect patriotic Americans from the real terror threats.
TSA shakedown

Young children and grandmothers also seem to be on the Transportation and Security Administration's (TSA) radar as suspected terrorists.

A Tennessee woman was arrested by police at the Nashville International Airport for refusing to go through the TSA's airport screening machine, and for refusing to allow her daughter to be patted-down by a TSA agent.

According to a police report, the mother told TSA agents that she didn't want her daughter to be "touched inappropriately" or have her "crotch grabbed." And since she refused to allow the screening, she was arrested on a charge of disorderly conduct.

The mother was also prevented from taking a video of the incident on her mobile phone.

How much further will you allow the government to push you around before you stand up and tell every member of Congress to protect your Fourth Amendment rights?
Sign the petition and send letters to your lawmakers and demand they END the police-state measures -- even dismantle the DHS and TSA and let the free market take care of those security needs, rather than the ever-growing federal government!

Public Comments
Aug 10th, 2011
pansy J. from Clinton, NC writes:
You MUST END this police-state measures. You MUST see that this is exactly what Hitler did to the people. Desensitizing your very right to private life & respect !
Aug 10th, 2011
Richard E. from Omaha, NE writes:
I use to think we lived in a free country. We now live under tyranny!
Aug 10th, 2011
James L. from Harrison Township, MI signed.
Aug 10th, 2011
Someone from Dickson, TN signed.
Aug 10th, 2011
Someone from Westminster, CO signed.
Aug 10th, 2011
Roger D. from Walker, LA signed.
Aug 10th, 2011
Bryan B. from Avondale, AZ signed.
Aug 10th, 2011
Someone from San Antonio, TX signed.
Aug 10th, 2011
Laura R. from Calistoga, CA writes:
How about the TSA & DHS target those who are the REAL threats!!! HELLO???? If the threat is pink with black polka dots you DON'T go after the yellow and blue stripes!!!! It's elementary LOGIC folks!!!
Aug 9th, 2011
Charlie W. from Corpus Christi, TX signed.
Aug 9th, 2011
Loren N. from Thompsontown, PA writes:
It is nothing short of an absolute disgrace what is going on with the POLICE STATE tactics of the DHS and TSA. It is even more of a disgrace that the American people are allowing it and not fighting against it. WHERE IS YOUR BACKBONE YOU GIRLY MEN AND WOMEN. THEY ACOMPLISH THEIR TYRANNY ALL IN THE NAME OF SAFETY AND THE AMERICAN PEOPLE BUY IT - WHAT DID ONE FOUNDING FATHER SAY - SOMETHING TO THE EFFECT - THOSE WHO GIVE UP THEIR FREEDOMS FOR SAFETY - DESERVE AND WILL END UP WITH NEITHER. GET IT AMERICA !!!!!!!!!!
Aug 9th, 2011
David G. from Black Canyon City, AZ signed.
Aug 9th, 2011
Shirley L. from Denver, NC signed.
Aug 9th, 2011
Robert B. from Modesto, CA writes:
Janet Napolitano (DHS) backed by Obama has stated that anyone who disagrees with a Communist regiem, the United Nations, Globalism ext. is considered a right wing extremist and possible terrorist?...Communism is an enemy of America and should NOT WITHOUT QUESTION be allowed in any part of American Government. Janet Napolitano along with Obama is pushing hard towards treason...Why does Congress allow this ....Americans will not...
Aug 9th, 2011
Robert B. from Modesto, CA writes:
Why do our courts and police play into this crap?....Why are the people NOT protected from this?Do NOT let these jerks get away with it....This is just wrong.
Aug 9th, 2011
Philip H. from Evansville, IN signed.
Aug 9th, 2011
David F. from Halethorpe, MD writes:
In his decision of July 15, 2011 Judge Douglas Ginsburg of the DC Circuit Court validated the use of "naked" scans because of their perceived efficacy in preventing any terrorist incidents on airplanes to date. He also said that passengers could opt for a personal patdown if they objected to the scans. This judge apparently values expediency over personal freedom guaranteed by the U.S. Constitution since he didn't address the issue of the unconstitutionality of such warrantless searches. If our government continues to permit the violation of such a fundamental principle of liberty, there can only be one conclusion: the terrorists have won!
Aug 9th, 2011
Candace C. from Orem, UT writes:
When did "law enforcement" cease to need a warrant for "enhanced" searches? They should have to show probable cause and get a warrant in order to conduct that kind of search on a U.S. Citizen.
Aug 9th, 2011
James M. from Hampstead, NC signed.
Aug 9th, 2011
fred d. from Somerville, NJ writes:
we need our elected officials to fight for the personal freedoms of ALL citizens!!
Aug 9th, 2011
Karen R. from South Amboy, NJ writes:
THIS IS ILLEGAL, RIDICULOUS AND AN ATTACK ON AMERICAN CITIZENS...PLEASE STOP THIS POLICING OF ORDINARY AMERICANS...THIS IS AN ATROCITY...SHAME ON YOU!!!
Aug 9th, 2011
Charles C. from Woodland Hills, CA signed.
Aug 9th, 2011
Charles C. from Woodland Hills, CA signed.
Aug 9th, 2011
Sherry J C. from Fort Lauderdale, FL signed.
Aug 9th, 2011
connie m. from Bronx, NY writes:
god you have to be very afraid of republicians going to such extremes well be afraid
Aug 9th, 2011
phyllis r. from Atlantic Beach, NY signed.
Aug 9th, 2011
Someone from Ontario, CA writes:
If this was a "real law enforcement" agency, these measures would likely be construed as a violation of ones civil rights. This clearly is NOT making anyone more secure with the possible exception of job security for the DHS and TSA. If only their argument was as strong as their abuse of power. Enough is enough!
Aug 9th, 2011
Kenneth K. from Middletown, DE signed.
Aug 9th, 2011
Someone from Goodyear, AZ signed.
Aug 9th, 2011
Someone from Goodyear, AZ signed.
Aug 9th, 2011
Someone from Goodyear, AZ signed.
Aug 9th, 2011
Bonnie C. from Wabash, IN writes:
Thank God for all the tea parties across the Country. Keep up the hard work, we can not lose our Country . We have some of the most wonderful kind,giving people that will help anyone that needs help . Thats what it is all about. Helping and loving those that do need help.
Aug 9th, 2011
Miriam W. from Saline, MI writes:
My God, I can't believe what is happening in this country. I understand wanting to prevent terrorists from boarding a plane, but this is going too far. Please do something to stop these extreme violations. What about using explosive sniffing dogs? Anything to prevent such abuse of citizens. LIttle children and 90-yr old wheelchair passengers !! I know TSA is just trying to do what they have been told their jobs require- but this is insane.
Aug 9th, 2011
Linda T. from Saraland, AL writes:
WHEN IS CONGRESS going to protect our citizens. AFTER IT IS TOO LATE!!!!!!!!!!!!! This is pathetic.
Aug 9th, 2011
Mort S. from Mesa, AZ writes:
When I think of all the people that loss their life during world war two for this????
Aug 9th, 2011
John M. from Austin, TX signed.
Aug 9th, 2011
Bob L. from Alamogordo, NM writes:
The TSA needs to stop feeling up Nuns, patting down elderly women with Diapers on in wheel chairs, and fondling little girls. Or start doing the say thing to all Muslims, Male, or Female. Why should they be allowed to claim immunity because of their beliefs! Everyone else in America has their own beliefs as well...
Aug 9th, 2011
Judith P. from Pass Christian, MS signed.
Aug 9th, 2011
Charles D. from Kenmore, WA signed.
Aug 9th, 2011
Someone from Grants Pass, OR signed.