Tell Congress: Abolish the U.S. Department of Education
Messages Sent So Far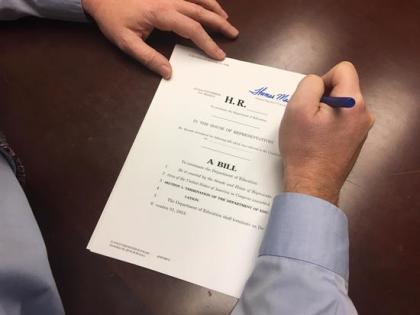 Members of Congress need to abolish the Department of Education and get the federal government out of our schools.
Sign the petition and tell your U.S. Representative and Senators to support and pass H.R. 899, a bill that includes a single sentence that states, "The Department of Education shall terminate on December 31, 2018."
Education is not the responsibility of the federal government, but the responsibility of parents first and communities second. The absolute highest level of civil authority over education permitted under the Constitution is State government.
Public Comments
Feb 16th, 2017
William T and Sandra R. from Dahlgren, IL signed.
Feb 16th, 2017
SUE S. from Sebring, FL writes:
THIS IS AMERICA AND THE TEACHER'S NEED TO TAKE BACK CONTROL OF THE TEACHING PROCESS.....THEY NEED TO TEACH SIMPLE PLAIN ENGLISH, MATH, SINCE AND HISTORY......GET BACK TO THE BASIC'S......
Feb 16th, 2017
Someone from Franklin, TN writes:
It's time to return education to the States!
Feb 16th, 2017
Virginia S. from Albuquerque, NM writes:
Here in New Mexico we have some of the very worst schools in the nation. Thanks to the teachers' unions and federal bureaucrats they will stay that way in the foreseeable future without serious education reform. We need to drain the swamp, eliminate silly departments in the federal government and let children no matter where they may live have the opportunity for a decent education. Kill the Dept. of Education; that would be a good first step!
Feb 16th, 2017
Walter and Jackie B. from Jonesboro, GA writes:
Feb 16th, 2017
Someone from Pascagoula, MS signed.
Feb 16th, 2017
Jean S. from Gunter, TX writes:
Feb 16th, 2017
Pamela R. from Grosse Ile, MI writes:
The federal government is too far from the local schools, which are so different, to make policy which applies to all. It would be better to have local jurisdiction make their own decisions.
Feb 16th, 2017
Tim T. from Irvine, CA writes:
Lets take back our Education programs back to the states and local government. Our kids are just plain stupid now, have no clue of our past history of greatness and believe we are in fact an aggressive war mongering country. Nothing could be further from the truth. I love this bill make it happen.
Feb 16th, 2017
Kevin M. from Allendale, IL signed.
Feb 16th, 2017
Linda S. from Union City, TN writes:
The states should be in charge of education. America will never be better until we take our country back & get rid of the useless government offices
Feb 16th, 2017
John N. from Monmouth, OR writes:
A bill that is so simple, brief, succinct and to the point! It is reminiscent of our founding documents! Brilliant. Its about time!
Feb 16th, 2017
Someone from Saint Paul, MN writes:
After forced to pay dues to school unions for nearly 20 years, I saw they do not serve students but only serve themselves. Education should be controlled at the local level not by bureaucrats in Washington!
Feb 16th, 2017
Someone from Sonora, CA writes:
Legislatures and the U.S Congress have been bribed for far too long by the Teachers' unions ,it's no wonder the U.S is ranked # 34 in the World in quality of education. The union work rules, pension deficits et al are outrageous.
Feb 16th, 2017
george w. from Saint Augustine, FL writes:
I know that this is a very much needed as for years I have been watching the young people get less patriotic and more indoctrinated in social ways of thinking. I also watch the young people have less leaning abilities, like how to read, spell, use the proper grammar, etc. My heart aches to see the direction my country is going. Please fight for her and not wavier.
Feb 16th, 2017
Jennifer G. from Kenmore, NY signed.
Feb 16th, 2017
Gregg L. from Runnells, IA writes:
We are sick and tired of sending money through our tax dollars to Washington DC to have it rerouted after paying for all the administrators when it could be more efficiently used without the detour to DC.
Feb 16th, 2017
Gene M. from Salina, KS writes:
Education must be administrated by our local school districts.
Feb 16th, 2017
Someone from South Saint Paul, MN writes:
Put the education of children in the hands of those closest to them, their own school district.
Feb 16th, 2017
BUDD S. from Los Osos, CA writes:
ALL UNIONS AND GOVERNMENT EMPLOYEES/ BUREAUCRATS OUT OF THE DE-EDUCATION/ INDOCTRINATION BUSINESS. ALL TEACHERS MUST BE TESTED EACH YEAR AS TO THEIR ABILITIES AND TENURE MUST BE ELIMINATED. THE FEDS CAN DO ALL THESE WITH THE POWER OF THE PURSE: BEST IF CONGREESS PASSED THE "ONE-SENTENCE" BILL (H.R. 899) WHICH OUR PRESIDENT WOULD SIGN! YOU NEED TO MAKE THIS HAPPEN FOR THE SAKE OF OUR CHILDREN AND THE FUTURE OF OUR NATION. GOD BLESS AMERICA!!! GOD DAMN THE PROGRESSIVES!!!
Feb 16th, 2017
Someone from Grove, OK signed.
Feb 16th, 2017
Lou J A. from Sanford, NC writes:
Let the States teach our Nation's children NOW!!!!
Feb 16th, 2017
Charles K. from Palmyra, PA writes:
The swamp of DC. must be drained out of Clinton and Obama hold overs. Obama has formed a deep state in an action to create a Cup d'eta against our loved president Trump. We the Trump supporters will not stand by and let this Rouge Radical Anti- American accomplish this action. I hope and pray i have made myself clear on this.
Feb 16th, 2017
Someone from Cypress, TX writes:
Education is a local issue not something to be handed over to bureaucrats at the national level. Keep the national government establishment OUT OF OUR SCHOOLS. They created enough problems with everything else they touch. We don't need their brainwashing approach to education - we need the revert to the real history of the country not the liberal gibberish spewed out today.
Feb 16th, 2017
Someone from Streator, IL writes:
We don't want or need bureaucrats in Washington DC channeling liberal and leftist social agenda and anti-American propaganda to our children. Schools should have local input into curriculum.
Feb 16th, 2017
Reyes G. from San Marcos, TX signed.
Feb 16th, 2017
Someone from Cabot, AR writes:
Awesome; the only thing I would change Is the date of termination from December 31, 2018 to December 31, 2017. The sooner the better!!!
Feb 16th, 2017
Someone from Kailua Kona, HI writes:
It's high time the federal government got out of funding alot of things education just one of them and subsidys another
Feb 16th, 2017
William R. from Panama City, FL writes:
Federal Regulation has brought all schools to the lowest common denominator, without the freedom to innovate. Get the Feds off the backs of State school oversight.
Feb 16th, 2017
Rocco S. from Rochester, NY writes:
Feb 16th, 2017
David R. from Davenport, IA signed.
Feb 16th, 2017
Bob H. from Boston, MA writes:
As a school teacher for 34 years in the only high school in the United States of America placed in federal receivership , I know first hand how much the Feds help .
Feb 16th, 2017
Glenn B. from Montrose, AL signed.
Feb 16th, 2017
Arlene S. from Darlington, SC writes:
Federal Gov't has gone rogue!!! We must take our country back!!!! States need to have control over local schools!!!
Feb 16th, 2017
Teresa M. from Houston, TX writes:
Back to basics! We have at least 1 generation not being taught basic skills that they would use the rest of their lives! My children were not taught how to write in cursive. They cannot read it or write it! Schools and teachers should be able to teach not focus on state or federal exams! We are failing our children then complaining because they don't know what they should to graduate. They cannot even fill out job applications or sign a bank signature card.
Feb 16th, 2017
Timothy P. from Appling, GA signed.
Feb 16th, 2017
Sally W. from Fairborn, OH writes:
The fact that Common Core was ever introduced in the school system has done a tremendous disservice to our children. The states need to have total responsibility in providing our young generations the education and skills they so desperately need. If you haven't noticed our country has fallen way behind in math, science plus other areas of education as shown in the stats with other countries.
Feb 16th, 2017
Ernest B. from Zephyrhills, FL signed.
Feb 16th, 2017
Idana B. from Camp Hill, PA writes:
Our educational decisions should be made at the state and local level, not by some bureaucrats in DC! Please vote to pass this bill!
Feb 16th, 2017
herman b. from Mc Lean, VA writes:
The totally unnecessary Dept of Education was a political creation and another of the numerous tentacles seeking to control our lives. Do not leave in place this dangerous Orwellian excresense.