Defund Planned Parenthood
Planned Parenthood's Senior Director of Medical Services admitted that her organization sells fetal body parts…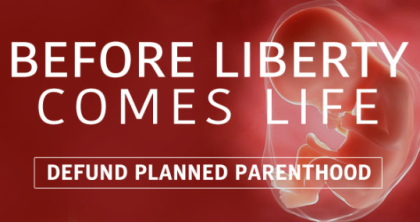 Planned Parenthood's Senior Director of Medical Services admitted that her organization sells fetal body parts…
She told undercover investigators that buyers want hearts, lungs, and "as many in tact livers as possible" – and that they sell "anywhere from thirty to one-hundred dollars [each], depending on the facility and what's involved."
While numerous controversies have plagued Planned Parenthood in the past, nothing has ever surfaced like this...
If you agree that Congress must act, add your name below and proceed to contact your U.S. Representative and each of your Senators.
Not only is time to eliminate all federal funds to Planned Parenthood, each and every branch must be investigated so that individuals who have participated in the selling of human organs may be brought to justice.
Public Comments
Feb 27th, 2017
Judy G. from Woodruff, WI signed.
Feb 20th, 2017
John V. from Carson City, NV signed.
Feb 8th, 2017
Jim C. from Spring, TX writes:
I implore you to do your utmost to set right the misguided path our nation has embarked upon, concerning the Created life value of the unborn child!
Feb 1st, 2017
Peggy C. from Augusta, GA signed.
Feb 1st, 2017
Someone from Santa Barbara, CA signed.
Jan 17th, 2017
CLIFFORD D. from Cameron, NC writes:
Big waste of tax payers money. Social Security is going broke but yet we have money for abortions, that"s a " NO SALE ". Have you ever heard of WELFARE going broke ??? Not lately.
Apr 29th, 2016
Debra T. from Groton, CT signed.
Dec 3rd, 2015
Maynard L. from Rushford, MN signed.
Dec 3rd, 2015
Gary T. from Katy, TX signed.
Nov 19th, 2015
Willis W. from Amboy, MN writes:
can't do this and expect tax dollars to pay for it.
Nov 15th, 2015
Someone from Huntington Beach, CA writes:
This is the most horrific thing I have ever heard, except voting in someone who never should have become president.
Nov 14th, 2015
Someone from El Paso, TX writes:
Nov 6th, 2015
Clinton S. from Glendive, MT signed.
Nov 5th, 2015
Kathy R. from North Haven, CT signed.
Oct 25th, 2015
Eric W. from Centerburg, OH signed.
Oct 24th, 2015
Randy G. from Whitestown, IN signed.
Oct 12th, 2015
David F. from Pekin, IL signed.
Oct 11th, 2015
Someone from Saint Paul, MN signed.
Oct 9th, 2015
Kim H. from Lewistown, PA signed.
Oct 9th, 2015
Velma W. from Woodward, OK writes:
When we no longer VALUE HUMAN LIFE, then America has NO CHANCE OF SURVIVAL! GOD'S JUDGEMENT IS UPON US!!!!!!! What is extremely disturbing is the LENGTH OF TIME THAT IT HAS TAKEN TO UNCOVER THE TRUTH!!!! THE CORRUPTION, LIES and EVIL have PREVAILED! (2 Chronicles 7:14 )
Oct 8th, 2015
Glenda W. from Norman, OK signed.
Oct 2nd, 2015
Gloria C. from Germantown, TN signed.
Oct 1st, 2015
Tim B. from Stearns, KY signed.
Sep 29th, 2015
Madeline D. from Cape Coral, FL signed.
Sep 25th, 2015
Richard B. from Green Cove Springs, FL signed.
Sep 25th, 2015
Paul C. from Hollister, CA signed.
Sep 25th, 2015
Robert H. from Harrisburg, PA writes:
Only Hitlers, kind a people would justify this eugenics program, which Sanger started, to rid the society of undesirable, in her view. So why do so many Americans buy this excrement!
Sep 24th, 2015
Micheal R. from Julesburg, CO signed.
Sep 24th, 2015
Cherie D. from Louisville, KY writes:
Abortion is murder and should be abolished completely. Planned Parenthood should be defunded and shut down completely. The monies that are allotted to PP should be distributed to women's healthcare facilities that actually do mammograms and other health care and that don't do abortions...period.
Sep 22nd, 2015
Sherry C. from Ellicott City, MD signed.
Sep 16th, 2015
Jon K. from Norfolk, VA signed.
Sep 12th, 2015
David W. from Sandy, UT signed.
Sep 11th, 2015
Robert C. from Fruita, CO writes:
Killing human beings in their mother's womb is murder!
Sep 10th, 2015
Timothy D. from Redlands, CA signed.
Sep 9th, 2015
Michelle W. from Claremont, MN signed.
Sep 6th, 2015
William F. from Wahiawa, HI signed.
Sep 5th, 2015
Micah P. from Wylie, TX signed.
Sep 5th, 2015
Tammi P. from Wylie, TX signed.
Sep 5th, 2015
Jeffre m. from South Lyon, MI signed.
Sep 3rd, 2015
Jeffrey m. from South Lyon, MI signed.