Tell the Republican National Committee to SUPPORT the FairTax!
Messages Sent So Far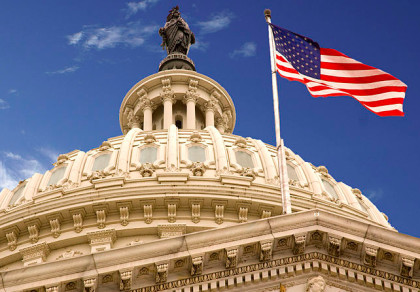 The Republican National Committee is asking the American People about tax reform.
They want a "bold and achievable plan" that:
Provides tax-relief for the middle-class
Simplifies the tax code
Grows the U.S. economy
It's time to take the FairTax to Republican leadership! The FairTax is the only tax legislation that treats every person equally and allows American businesses to thrive, while generating the same tax revenue as the current four-million-word-plus tax code... and without the I.R.S.
Take action now: Add information below to sign and send your letters to the Republican National Committee!
Public Comments
Apr 26th, 2017
Wilbur B. from Canton, OH writes:
Apr 26th, 2017
James T. from Willow Spring, NC writes:
The current President and All the Politicians don't care about the Public - They are more interested in increasing there own wealth and improving things for their own personal benefit. If they truly want to help the American Public - Pass the Fair Tax Law; Initiate Fair Immigration Reform, and Institute Term Limits for all Politicians. They need to start doing what's right for the Public and not what's good for their own wallets.
Apr 26th, 2017
Jeff G. from Simi Valley, CA writes:
Stop the Slavery: The current tax systems is a form of slavery and ruins the lives of every American. A tax system which is based on consumption is a fair way to raise revenue for our country.
Apr 26th, 2017
Someone from Fernandina Beach, FL writes:
Its fair and EVERYBODY pays it. Its permanent can't be changed by Congress like any other tax plan can and will be. Passing it will not be easy, but well worth doing.
Apr 26th, 2017
Louis G. from Lubbock, TX writes:
The FairTax is the only solution for our current tax problems. There is no need to invent the wheel. The FairTax will provide the benefits for the American people and big and small businesses. Will help our healthcare, eliminate all intrusive taxes, bring companies back to USA soil, the underworld will not get away without paying their fair share. There are so much more pluses to the FairTax than our current tax system. Mr. Trump's plan helps the top 1% more than the American people. FairTax will make America great again.
Apr 26th, 2017
Glen I. from Burbank, CA writes:
The question is: Will congress act in the interest of America, or in the interest of Politicians?
Apr 26th, 2017
Joseph C. from Long Beach, NY writes:
If Trump wants to be the greatest job creator in history, he needs to pass the FairTax!