Tell President Trump You Support Him On The Wall! Sign The Petition
Messages Sent So Far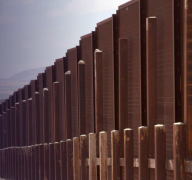 President Donald Trump is sticking to his word -- he will not sign spending legislation to re-open the partially-shuttered federal government without including funding for THE WALL! Join Bikers For Trump in showing the President that you stand with him.
ADD YOUR SUPPORT NOW: SIGN AND SEND YOUR LETTERS TO PRESIDENT TRUMP IN SUPPORT OF THE WALL!
*Click "Send Message" below to proceed to send your customized letter to the President.